Lanto Sinus is now available from Lanto Health!
Lanto Sinus is a high quality refrigerated probiotic supplement that supports sinus health (that is, to be used when there are sinusitis symptoms).  It contains beneficial kimchi derived Lactobacillus sakei, a keystone bacteria found in healthy sinuses. It is lab tested and verified, and produced using Good Manufacturing Practices. A big plus - it only needs refrigeration, so it ships and travels well.
This product can be easily used 2 ways: 1) regular use (for minor symptoms): swish in the mouth (either dry or mixed with a little water), and 2) for a maximum boost: mix with water and dab (or smear) in the nose. This is the product I've discussed in two posts: a discussion of Lanto Sinus, and an in-depth article of Lactobacillus sakei products for sinusitis.
As I've reported, it can treat even the worst recurring sinus infections,  frequently within a few days (it's quick-acting!). It is meant to be used only when needed.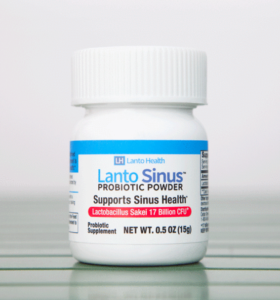 NOTE: I personally use Lanto Sinus in the nose if I'm sick with sinusitis or feel I need a maximum dose. I use it in the mouth (dry powder) when I start developing symptoms or if I'm in a big rush or traveling (open bottle, scoop out 1 tiny spoonful, swish in mouth, swallow).