Lanto Sinus is now available from Lanto Health!
Lanto Sinus is a high quality refrigerated probiotic supplement that supports sinus health (that is, to be taken when there are sinusitis symptoms).  It contains beneficial kimchi derived Lactobacillus sakei, a keystone bacteria found in healthy sinuses. It is lab tested and verified, and produced using Good Manufacturing Practices.
This is the product I've discussed in two posts: a discussion of Lanto Sinus, and an in-depth article of Lactobacillus sakei products for sinusitis.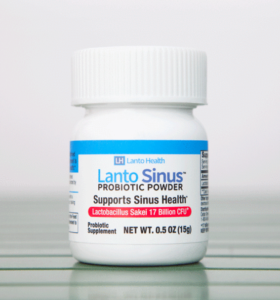 Please note: Lanto Sinus was originally called Lacto Sinus. On February 3, 2019 the company changed the name to Lanto Sinus in order to get a trademark. It is the exact same product - the only change is the name.