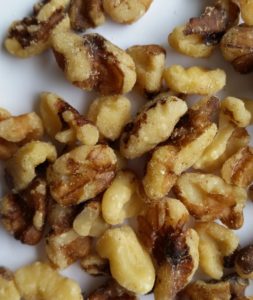 Once again, a study finds that consumption of nuts is beneficial to health - this time by impacting the gut microbiome (community of microbes) in a beneficial way. This was a nicely done study -18 healthy adults randomly assigned first to either eating about a handful of walnuts daily (42 g) or zero nuts daily for 3 weeks, and then assigned to the other group for 3 weeks, with a "washout period" of 1 week in-between. Walnut consumption resulted in higher amounts of beneficial gut bacteria (Faecalibacterium, Clostridium, Dialister, and Roseburia) which are butyrate producing (beneficial!), and lowering of proinflammatory secondary bile acids and LDL cholesterol (both beneficial).
As seen in this walnut study from the University of Illinois, adding walnuts to the diet has quick effects on the gut microbiome. Other studies find that diets rich in nuts (which are a source of dietary fiber and unsaturated fatty acids) are associated with a reduced risk of death from cancer and heart disease. Bottom line: eating some nuts daily feeds beneficial bacteria in the gut, and so has beneficial health effects. This walnut study had everyone eating about a handful of walnut halves a day (42 g, which is a little less than 1/2 cup walnut halves).
From Science Daily: Walnuts impact gut microbiome and improve health
Diets rich in nuts, such as walnuts, have been shown to play a role in heart health and in reducing colorectal cancer. According to a new study from the University of Illinois, the way walnuts impact the gut microbiome -- the collection of trillions of microbes or bacteria in the gastrointestinal tract -- may be behind some of those health benefits.  ...continue reading "Walnuts Feed Beneficial Gut Bacteria and Other Health Benefits"