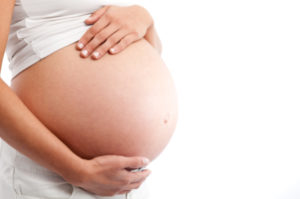 Babies in the womb react to the taste of food that their mother eats. Yes, it's true. A study conducted in England found that babies (the fetus) during 32 to 36 weeks development generally smiled or laughed after their mother ate carrots, but grimaced after she ate kale.
The fetus can smell and taste the food that the mother eats. Researchers of the study said that the diet of the pregnant woman exposes the baby to all sorts of flavors and smells, and say that "prenatal flavor exposure" has an effect on "chemosensory development".
Other studies had found that babies are more willing to eat foods that their mother had eaten during pregnancy, but this latest study actually had photographic evidence of the baby's responses. [The study has some good photos.] Some other earlier studies found that the  amniotic fluid is flavored by the foods a mother eats during pregnancy.
Excerpts from Science Daily: Babies react to taste and smell in the womb
Scientists have recorded the first direct evidence that babies react differently to various smells and tastes while in the womb by looking at their facial expressions.
...continue reading "The Developing Fetus Can Taste Foods the Mother Eats"