NOTE: This page is a QUICK SUMMARY OF SINUSITIS TREATMENT METHODS using kimchi, plus frozen and refrigerated probiotics. **For info. on brands and products containing L. sakei, as well as what others have reported regarding these products, go to The One Probiotic That Treats Sinusitis. The background story of the kimchi treatment is in the Sinusitis Treatment Story page.
The successful and easy do-it-yourself sinusitis treatment came about after I read about the sinusitis research done by N. Abreu et al (from Sept. 2012 in Sci.Transl.Med.). They discussed that not only is the sinus microbial community out-of-whack (dysbiosis), but also the probiotic (beneficial bacteria)  Lactobacillus sakei is missing in chronic sinusitis sufferers and that L.sakei would work as a sinusitis treatment if put into the nostrils. I looked for a natural source of L.sakei and found it in kimchi. Since dabbing the kimchi juice (or other L. sakei product) in our nostrils as needed, all 4 of us are free of chronic sinusitis and off all antibiotics for 4 1/2 years. We now only treat with a Lactobacillus sakei product as needed, for example, after we get sick with a virus and develop acute sinusitis. Please note that all these treatments are self-experimentation.
 KIMCHI TREATMENT - When treating sinusitis with kimchi, we  use live (fermented and not pasteurized) vegan (no seafood added)  kimchi. Choosing vegan kimchi is a personal preference. Our experience has been that Lactobacillus sakei is found in kimchi from about 2 weeks after being made (some brands earlier) to about 2 1/2 months after being made. If the kimchi is too young, just keep it in the refrigerator unopened until day 14 and then try using it. L. sakei should be found in many brands of kimchi, but not all brands. Researchers say L.sakei is found in meat (and typically used in preserving meat), seafood, and some vegetables.
TREATMENT METHOD USING KIMCHI: 1) Wash hands, and then use a clean teaspoon to put a little juice from the kimchi jar into a small clean bowl. 2) Dip finger in the kimchi juice and dab it or smear it along the insides of one nostril (about 1/2" into the nostril). 3) Dip finger in kimchi juice again and repeat in other nostril. 4) Do this several times. If I needed to blow my nose at this point I would, and afterwards I would put more kimchi juice up each nostril (again repeating the procedure) and then not blow my nose for at least 1/2 hour. 5) Afterwards, any unused kimchi in the little bowl was thrown out and not replaced in the main kimchi jar. [Note: Put the main kimchi jar back in the refrigerator. Also, once opened, take kimchi juice from it for no more than 6 days because the L. sakei will die out within a week (due to oxygen getting in). We found that kimchi has L. sakei in it from about 2 weeks after being made (some brands earlier) to about 2 1/2 months after being made.]
My rationale was that I was inhaling the bacteria this way and that it would travel up the nasal passages on their own to my sinuses. I did this regimen once or twice a day initially until I started feeling better, then started doing it less frequently, and eventually only as needed.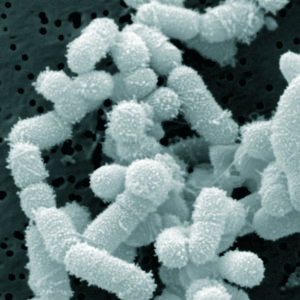 FROZEN PROBIOTIC TREATMENT METHOD - We also use frozen products containing L. sakei, such as Bactoferm F-RM-52 (which contains Lactobacillus sakei and Staphylococcus Carnosus, and is sold as a starter culture for sausages). These come as freeze-dried powders in a packet, and should be stored in the freezer. They successfully treat both chronic sinusitis and acute sinusitis. Once opened, the L. sakei only stays alive at most a few months (it may feel weaker in as little as 8 times of use), even though the package is put back in the freezer. This is because L. sakei is anaerobic (dies off when exposed to oxygen).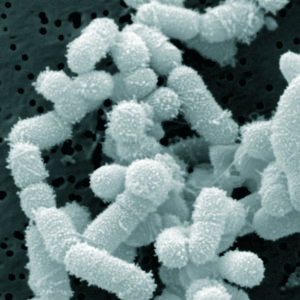 TREATMENT METHOD USING FROZEN PROBIOTIC: 1) Take bacteria package out of freezer and put small amount (about 1/8 teaspoon to 1/4 teaspoon) of bacteria powder and mix with 1/4 cup non-chlorinated water (we used distilled, boiled, or bottled water). (Note: Put remaining bacteria package back into freezer). 2) Mix and let the bacteria-water mixture sit for about 15 to 20 minutes to "wake it up". 3) Wash hands. Dip finger into bacteria mixture and smear it along the insides of one nostril (about 1/2" into the nostril) and repeat procedure in other nostril. OR...Can slosh a little of the mixture into the nostrils with a little spoon (because it is very watery) and inhale deeply. 4) Repeat a few times if dabbing/smearing, but maybe only one more time (for a total of 2 times in each nostril) if sloshing a little with a spoon into the nostril. Try not to blow the nose for a few minutes.  (Note: The mixing of the bacteria powder and water are based on the directions that came with the bacteria.) Every time we do a treatment we make a new L. sakei and bottled water mixture to use.
My experience with the Bactoferm F-RM-52 is that it works well, it is reliable, and it is not as gentle as kimchi. I use this product once a day when needed, perhaps for only 3 or 4 days in a row, then wait a day or 2 or 3 to see if more is needed, because it has a lot of L. sakei in it (therefore strong). The effect of the second microbe is unknown (but it is considered non-pathogenic) and we (and others) have not found any problems. If too much is used at one time (many times in each nostril - such as 5 times in each nostril), then the throat and sinuses may feel very dry, perhaps even a feeling of light-headedness or a feeling of "too much probiotics" for a few hours up to a day. That is why it is better to use less, not more at once. As I've said many times, what we've done is self-experimentation with these sinusitis treatments.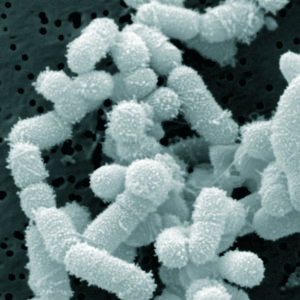 REFRIGERATED PROBIOTIC TREATMENT METHOD - Use any of these methods for any refrigerated probiotic (whether a single strain or multi-strain). 1) Spoon a little of the powder (maybe 1/8 to 1/4 teaspoon; this may involve cutting open a capsule) into a small clean bowl, and add a little bottled, distilled, or boiled water (1/8 to 1/4 cup) to make a mixture. 2) Stir, let it sit for about 2 to 3 minutes. 3) Then dab or smear a little into each nostril. Repeat a few times. Try not to blow the nose for about 30 minutes. ... OR just skip the above steps and just swish this mixture in the mouth, and then swallow it (after all, it is a dietary supplement). But then don't eat or drink anything else for at least 1/2 hour. (By the way, every time we do a treatment we make a new mixture to use.)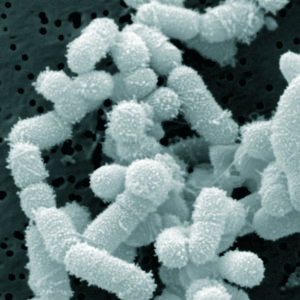 COMBINATION OF TREATMENT METHODS IN 1 DAY: We rarely do this. First a kimchi or multistrain probiotic treatment, and then several hours later a Bactoferm F-RM-52 treatment or other treatment. (Remember: this is self-experimentation and results can be positive or negative). The only reason we did it was to see if we could increase the variety of species of bacteria in our sinuses after only using one form of treatment for many months (not every day - just when needed). We would not do a combination treatment if we were just tryng out a L. sakei treatment for the first time - it is better to experiment with one method at a time to see if it works.
ANOTHER OPTION: To increase bacterial diversity after months of only one kind of treatment (which was used only when needed), we may just try one new thing: a multi-strain probiotic (powder in mouth) or new brand or type of kimchi or new L. sakei product, and see if we feel more "balanced" or better. After all, there are whole communities of microbes in the sinuses, the nasal passages, the mouth, etc. - and when they are out-of-whack, there are symptoms. It's all self-experimentation!

FINAL NOTE: The beneficial bacteria we looked for in a (refrigerated) multistrain probiotic was: Lactobacillus acidophilus, Lactobacillus plantarum, Lactobacillus rhamnosus, and Lactobacillus casei. We occasionally use this interspersed in-between other L. sakei treatments or even sometimes when the sinuses seem a little "off" (e.g., phlegmy, or perhaps the sense that have to keep clearing the throat).
-------------------------------------------------------------------------
FOR DETAILS ON WHERE WE AND OTHERS FOUND L.Sakei (BRANDS, PRODUCTS, etc.) AND SOME OTHER PROBIOTIC POSSIBILITIES, PLEASE READ THE POST: THE ONE PROBIOTIC THAT TREATS SINUSITIS .  (Lots of valuable information.)
THE SINUSITIS TREATMENT STORY PAGE TELLS OUR BACKGROUND STORY IN DEPTH.
There are also a number of other sinusitis posts on this web-site - click on the category SINUSITIS. Some of the posts are about the latest sinusitis research - whether biofilms, the value of saline irrigation, the future of probiotics in treatment, phage therapy, etc).
DISCLAIMER: I am not a medical doctor and cannot give medical advice. I am only sharing my family's story and what others have reported to me.