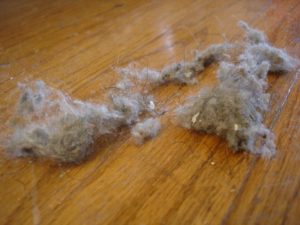 Flame retardants are a big, big concern nowadays, with their links to all sorts of health problems, including endocrine disruption, cancer, reproductive problems, etc. (here) And it's hard to avoid them - they're in products all around us, including the upholstered furniture and electronics that most people have in their homes. They leach or "migrate" out of the products, enter into the air, and settle as dust particles in our homes, and in the process get into us - from inhalation and ingestion of the dust. So we can't fully avoid them... but we can drastically reduce the amounts we get into us fairly quickly as a recent study showed.
The study (of 32 mothers living in New York City) found that more frequent hand washing and more frequent house cleaning for one week reduced flame retardant levels - as measured in the urine. About 50% reductions after one week! And yes, all women had flame retardants in their urine - some of which they were able to reduce, but not eliminate. Earlier research by most of this same group of researchers found that every toddler tested (25 toddlers living in New York City) had flame retardants (from dust) on their hands.
The US EPA says that dust is the major way humans are exposed to flame retardants. They suggest the following steps be taken to lower flame retardant exposure, especially if one has young children: frequent hand washing (especially before eating), dust frequently with a moist cloth, frequently wet mop or vacuum with a  vacuum cleaner that has a HEPA filter, and repair tears to upholstered furniture. The study confirms that these steps work.
And please, if buying new upholstered furniture such as sofas, or rugs, or curtains, or some baby products - look at the label to make sure it doesn't contain flame retardants. Even the newer flame retardants that manufacturers claim are "safer" are still chemically related to the old versions, and have the same health concerns. From Medical Xpress:
Handwashing and house cleaning may protect against unhealthy chemicals
Washing your hands and cleaning your house frequently may help to lower your contact with common flame-retardant chemicals, according to a new study by researchers at the Columbia Center for Children's Environmental Health (CCCEH) at Columbia University's Mailman School of Public Health.
...continue reading "Study Finds That Simple Steps Lower Flame Retardant Levels In the Body"