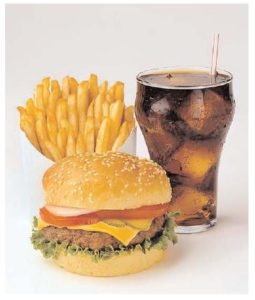 There have been growing concerns about the presence of harmful endocrine disrupting chemicals called phthalates in common products and foods. A recent study found phthalates in a large variety of fast foods purchased from fast food restaurants - from hamburgers and chicken nuggets, to chicken burritos. They found detectable levels of phthalates in all the foods sampled, with meat products having higher levels than non-meat foods, such as fries and pizza.
This could explain why an earlier study found that people eating fast food had higher levels of phthalates than those who didn't eat fast food (and ate homecooked meals instead).
Phthalates are a group of chemicals used to make plastics soft, but are also known to disrupt the endocrine system. The chemicals leach into the food from the stain and water resistant packaging used for fast foods, and even from the gloves the food handling workers wear. When the foods are eaten, the consumer also ingests these chemicals -  and the higher the levels in the body, the greater the health effects.
Endocrine (hormone) disruptors, such as phthalates, are associated with all sorts of health problems, including cancers, reproductive harm (e.g. poorer semen quality), lowered sex and growth hormones in children, thyroid disease, immune effects, and liver and kidney damage. Unfortunately, they are already found in the bodies of almost all Americans, so we should try to reduce our exposure.
Bottom line: try to eat less fast food, and try to eat more home cooked meals. Remember, the more you eat fast foods, the higher the phthalate levels in your body (it's a dose-response effect).
From Science Daily: Potentially harmful industrial chemicals detected in US fast foods
Chicken nuggets, burritos and other popular items consumers buy from fast food outlets in the United States contain chemicals that are linked to a long list of serious health problems, according to a first-of-its-kind study published today.  ...continue reading "Endocrine Disruptors Called Phthalates Found In Fast Food"