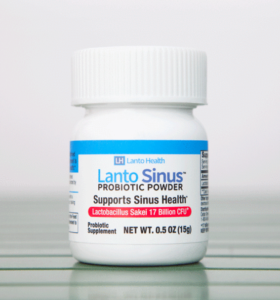 Big announcement today! The high quality product Lanto Sinus, which contains the probiotic Lactobacillus sakei specifically for sinus health (for sinusitis symptoms), is now available. This product contains an excellent strain of Lactobacillus sakei that is kimchi derived. Lactobacillus sakei is the one probiotic (beneficial bacteria) that has successfully treated sinusitis (both chronic sinusitis and acute sinusitis) of many people, including all members of my family. It's quick-acting, so frequently this occurs within a few days!
It has been an amazing journey - and since using Lactobacillus sakei (when needed) our sinuses feel great, and we have not had to use antibiotics in 8 years! A win-win.
More than 8 years ago I read research about the sinus microbiome (microbial community), and how chronic sinusitis sufferers lack the keystone bacteria Lactobacillus sakei that successfully treats sinusitis. There were no probiotics with L. sakei available back then. None. But we (my family) were able to successfully treat chronic sinusitis with live kimchi, which can contain Lactobacillus sakei (see Sinusitis Treatment Story).
Kimchi is a wonderful product, but... with kimchi you never know if you're getting L. sakei, and even then it dies off rapidly. We went on to experiment with other products for years, with none of them ideal. So it is great that finally, after all these years, a product like Lanto Sinus is now available.
Nice things about Lanto Sinus are that the product is easy to use, holds up well, is in powder form, and it only needs to be refrigerated. (That's right, it's meant to be refrigerated, and not frozen.) Since it also holds up well for a time without refrigeration, it also ships well. After all, L. sakei lives and multiplies in our body at about 98.6 degrees Fahrenheit.
[Please note: Even though it is shipped with an ice pack, shorter shipping (1 or 2 day shipping) in hot summer months is always preferable. Generally USPS delivers to mailboxes, while UPS delivers packages to the door.]
Lanto Sinus is sold by Lanto Health, and shipped from the NJ/NY metro area. Lanto Sinus is a high quality probiotic dietary supplement that is produced with Good Manufacturing Practices, and is lab tested and verified.
It feels gentle, yet it is strong. It comes in powder form with easy directions for using it two ways: in the nose (for maximum boost) or in the mouth (regular use). The product is meant to be used when needed for sinus support - that is, when there are some sinusitis symptoms.
I want to mention that I have been a consultant to the company, and have been testing and using the product for over 3 years. As usual, I experimented various ways (both in my nostrils and mouth) to see what works best for me - but only using it when needed (for example, if I start to slide into sinusitis after a virus). After 8 years of self-experimentation in various ways my sinus microbiome has improved, so at this point I only need to use a little bit for successful results. 
By the way, the advice to use only when needed - should be applied to any probiotic  supplement that is used as a sinusitis treatment or for sinus support. And as I describe in The Best Probiotic For Sinus Infections - based on my family's experiences and many people contacting me - most people are helped by Lactobacillus sakei, but not all. Unfortunately there is no way to know if L. sakei will treat a person's sinusitis unless it is tried.
This is because everyone's sinus microbiome (microbial community) is different - and so how one reacts to different probiotics can vary. By the way, L. sakei does not appear to treat allergies or allergy symptoms.
Finally, I want to point out that currently all probiotics in the United States are sold as dietary supplements and not as treatments. The FDA (Food and Drug Administration) at this time does not allow any medical treatment claims for any probiotic sold. Using a probiotic dietary supplement in ways other than label directions is SELF-EXPERIMENTATION. [See Sinusitis Treatment Summary page for self-experimentation details - the different ways people use L. sakei products.]
And on a final note, some other news about L. sakei: According to several studies, when taken orally (swallowed) Lactobacillus sakei appears to be beneficial in certain skin conditions such as atopic eczema-dermatitis syndrome and atopic dermatitis. Another study found that patients with ischemic strokes had decreased numbers of Lactobacillus sakei in the gut (as compared to healthy individuals).  It's an interesting microbe!
[This post was updated January 29, 2021.]