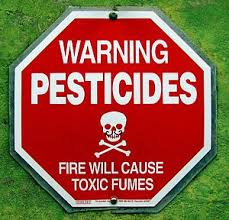 Once again the USA lags behind other countries - this time in banning harmful pesticides. Dr. Nathan Donley at the Center for Biological Diversity in Oregon compared the world's 4 top agricultural producers (USA, Brazil, China, and European Union) in the use of 500 pesticides, and whether they allow or ban pesticides that have the most potential for harm to humans and the environment. He found that the US allows the use of 85 agricultural pesticides that are banned by at least one other nation. [Specifically: the US allows 72 agricultural pesticides that are banned or being phased out in the EU, 17 in Brazil, and 11 in China.]
This means that "Of the pesticides used in USA agriculture in 2016, 322 million pounds were of pesticides banned in the EU, 26 million pounds were of pesticides banned in Brazil, and 40 million pounds were of pesticides banned in China. Pesticides banned in the EU account for more than a quarter of all agricultural pesticide use in the USA." Yikes! These are the most harmful of the bunch and yet they're being used and contaminating our environment, our food, and us. Yes, pesticides are in almost all of us, and there a number of ways they get into us - whether inhaled, absorbed through the skin, or ingested (e.g. in our food or water).
And look at the amount of all pesticides used annually in these 4 top agricultural producers and exporters. In 2016 the USA used 1.2 billion pounds of pesticides, China used 3.9 billion pounds, Brazil used 831 million pounds, and the EU used 827 million pounds. It's a lot!
A disturbing finding was that currently the USA exclusively  uses voluntary cancellation of pesticides - which are initiated by the pesticide industry, while the EU, China, and Brazil mainly have bans that are initiated by their regulatory industries. It's no wonder that dangerous pesticides aren't being banned in the United States. And the one pesticide that was recently scheduled to be banned (chlorpyrifos) wasn't, because an industry-friendly administration took control of the EPA before the ban was enacted.
The study itself is easy to relatively easy to read: The USA lags behind other agricultural nations in banning harmful pesticides
Or here is a nice write-up from Beyond Pesticides: 85 Pesticides Banned Around the World Account For A Quarter of U.S. Use  ...continue reading "The U.S. Lags Behind Other Nations In Banning Harmful Pesticides"