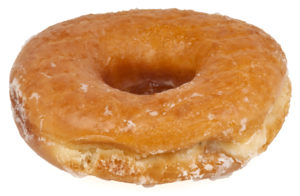 For years it has been known that eating foods with artificial trans fats has serious health effects. It has been linked to increased risk of coronary heart disease, atherosclerosis, inflammation, and risk of early death, diabetes, and poorer memory in middle-aged men. Now the results of a study, which followed 1628 older residents of a Japanese community for a decade, found that we can add dementia and Alzheimer's disease to this list.
The researchers measured blood levels of elaidic acid, which is a biomarker for artificial (industrial) trans fats. Those persons in the groups with the highest levels of elaidic acid had higher levels of dementia and Alzheimer's disease after a decade (a linear association - the higher the levels, the higher the incidence), but there was no association with vascular dementia.
The researchers found that eating sweet pastries, margarine, sugar confections (e.g. candy, caramels, chewing gum), croissants, nondairy creamers, ice cream, and rice crackers were all the strongest predictors of having higher serum elaidic levels in this study. [Notice that margarine, which for years was considered "healthy", is now considered "unhealthy" because of its trans fats.]
The FDA banned the use of trans fats in foods starting June 2018, but there is a big loophole, a really big loophole. Foods containing less than 0.5 grams of trans fats are allowed to be labeled as ZERO grams of trans fats, because they are allowing the companies to round downward. So if a person eats a number of foods per day containing these "minimal" amounts, they add up. And in this way one can wind up with pretty high levels in the blood. [By the way, some countries still allow trans fats. Also, read the interesting story of the man behind the U.S. ban.]
Where are trans fats still found? Trans fats are found in partially hydrogenated oils, as well as in other types of refined oils, monoglycerides, diglycerides and other emulsifiers, and even in flavors and colors. They are found in a lot of processed food (e.g. baked goods, vegetable shortening, vegetable oils, whipped toppings), so read ingredient labels carefully and avoid them. As usual, best are real whole foods . If you see something that you don't routinely have and cook with in your kitchen, then avoid that ingredient. For example, do you have monoglycerides in your kitchen? NO? Then it's an ingredient to avoid.
From Medscape: Trans Fats Tied to Increased Dementia Risk  ...continue reading "Trans Fats and Dementia"