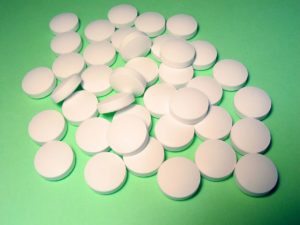 Macular degeneration is a feared condition, so this study finding a link with calcium supplements and age-related macular degeneration in those 68 and older is a bit alarming. However, it shows association, not causation, because it looked at people only one time. But once again supplements are looking suspect.
Another reason to stick with whole foods, especially leafy greens and fish, and don't smoke. From Medscape:
Calcium Supplementation Associated With Macular Degeneration
Individuals who take more than 800 mg of calcium daily are almost twice as likely to be diagnosed with age-related macular degeneration (AMD) as those who did not, according to the results of a new study published online April 9 in JAMA Ophthalmology.
Caitlin L. M. Kakigi, BA, from the Department of Ophthalmology, University of California, San Francisco, and colleagues evaluated 3191 participants in the 2007 to 2008 National Health and Nutrition Examination Survey (NHANES) aged 40 years and older, including 248 patients with AMD diagnosed by fundus photography. Each participant was surveyed about consumption of dietary supplements and antacids during the 30-day period preceding trial enrollment.
The researchers found the odds of an AMD diagnosis were elevated among participants who reported taking 800 mg of calcium or more daily....The association was strongest in older people,  for those aged 68 years and older. In fact, there was no association between AMD diagnosis and calcium intake in participants younger than 68 years. The average age of participants with AMD in this study was 67.2 years compared with 55.8 years for those without an AMD diagnosis.
Rahul Khurana, MD, a clinical spokesperson for the American Academy of Ophthalmology and a partner at Northern California Retina Vitreous Associates in Mountain View, who was not involved in the study, cautioned that it is an exploratory analysis."It shows association but not causation."