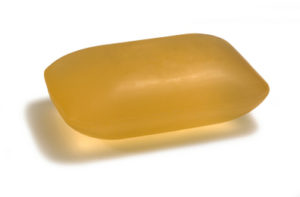 Stop using the damn antibacterial products! Yes, stop using stuff that says "antibacterial", "antimicrobial", "germ-killing",  or "anti-odor". Whether in personal care items, or bedding, or socks, or hand wipes, or wherever else you see those labels - don't buy them and try to avoid using them. Plain soap works just as well for cleaning hands (see FDA page). The "antibacterial" chemicals in soaps, toothpastes, body washes, etc. are absorbed by the body where they may do harm. Yes - HARM. The harms may not be known initially, but over and over, at some later point, the various chemicals are shown to cause harm - whether in humans or the environment, or both.
A case in point is the antimicrobial triclosan. It has been used for years in soooo many products, and religiously used by those concerned with "killing germs". It is now finally banned by the FDA from soaps and body washes because of the harms it causes. These include various health effects - and also because it's an endocrine disruptor (disrupts hormones).  And yes, it also crosses the placenta and has been associated with effects on the developing baby. For example, a recent study found an "inverse relationship" - that higher levels of triclosan in the mothers' urine during pregnancy (meaning they had used and absorbed more triclosan products) were associated with lower birth weight, length, head circumference, and gestational age (length of pregnancy). Of special concern to us at Lacto Bacto is that it also disrupts our microbes - remember that antimicrobial products (whether Triclosan in soap or antibiotics) kill off both beneficial and harmful bacteria.
As a recent study shows - triclosan is absorbed by pregnant women (and can be measured in their urine) and, it is absorbed and found in the urine of children who washed their hands or brushed their teeth with products containing triclosan.  And the higher the socioeconomic status, the more triclosan in the body - after all, people pay a premium for products that are "antimicrobial". While triclosan is now banned from being used in certain products (soaps and body washes), it is still allowed in many, many other products. And there are all those other antimicrobials that also should NOT be used. So please read the labels, especially the ingredient lists, and try to avoid antimicrobial, antibacterial, germ-killing, and anti-odor products. From Environmental health News:
Hygiene leaves kids with loads of triclosan
Levels of a controversial chemical meant to kill bacteria spike in the bodies of young children after they brush their teeth or wash their hands, according to a new study. U.S. manufacturers are phasing triclosan out of hand soaps after the Food and Drug Administration banned it effective last year amid concerns that the compound disrupted the body's hormone systems. It remains in Colgate Total toothpaste, some cleaning products and cosmetics. Health experts say exposure is best avoided for babies in the womb and developing children.
The latest study, published in the journal Environmental Science & Technology, is one of the first to show that children's levels rise through their first few years of life. Hand washing and teeth brushing have speedy, significant impact on levels, the researchers found. Braun and colleagues tested the urine of 389 mothers and their children from Cincinnati, collecting samples from the women three times during pregnancy and from the children periodically between 1 and 8 years old.
They found triclosan in more than 70 percent of the samples. Among 8 year olds, levels were 66 percent higher in those that used hand soap. And more washing left the children with higher loads—those who reported washing their hands more than five times per day had more than four times the triclosan concentrations than those washing once or less per day. Children who had brushed their teeth within the last day had levels 2.5 times higher than those who had a toothpaste-free 24-hour span.
Braun said the levels of triclosan rose as the children aged, eventually leveling off. "Their levels were almost to moms' levels by the time they reached 5 to 8 years of age." This, he said, is likely due to more frequent use of personal care products as the kids aged. Despite the hand soap ban, triclosan remains on the market because it is effective at fighting plaque and gingivitis. Colgate uses 0.3 percent of the antibacterial to "fight harmful plaque germs.".
Braun, however, said there is "quite compelling" evidence from animal studies that triclosan decreases thyroid hormone levels. Properly functioning thyroid hormones are critical for brain development. Just last month, using the same mothers and children, Braun and others reported that mothers' triclosan exposure during pregnancy was linked to lower birth weights, smaller heads and earlier births. In addition, Pessah and colleagues reported triclosan hinders proper muscle development. The researchers used mice and fish, finding that triclosan affects the process responsible for muscle contraction.