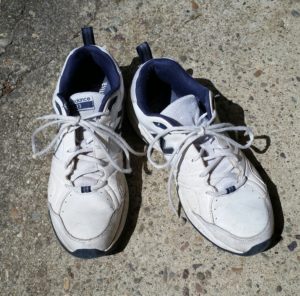 A new study's results actually made me ask - this was a surprise? Of course more fit people have lower levels of chronic inflammation and smaller waist size, no matter their Body Mass Index (BMI) - which includes their weight. And the reverse is also true (lower fitness levels are associated with greater waist size and higher levels of chronic inflammation, no matter the BMI). Which means that being fit, no matter the weight, has health benefits. From Medical Xpress:
Low fitness is associated with larger waist size and higher degree of inflammation
Low fitness is associated with a larger waist size and a higher degree of inflammation, according to a study published January 17, 2018 in the open-access journal PLOS ONE by Anne-Sophie Wedell-Neergaard from the University of Copenhagen, Denmark, and colleagues.
Waist circumference can indicate the amount of excess fat found around the abdomen and previous studies have shown excess abdominal fat may increase the risk of chronic system inflammation and metabolic diseases. The authors of the present study sought to investigate the association between fitness and waist circumference as well as the association between fitness and low-grade inflammation, and whether there was a correlation with Body Mass Index (BMI).
The researchers analyzed the previously collected data of 10,976 individuals from The Danish National Health Examination Survey 2007-2008. These individuals took a maximal oxygen uptake (VO2max) test to assess their physical fitness. Their waist circumference, weight and height were measured, and blood samples were taken to measure their level of C-reactive protein, a nonspecific biomarker of low-grade inflammation.
The researchers found that higher levels of fitness were associated with a smaller waist circumference and a lower degree of inflammation independently of BMI. The researchers acknowledge that there are possible limitations that may affect the findings of the study, but overall the results suggest that increased fitness has the potential to reduce abdominal fat mass and inflammation which may improve metabolic health irrespective of BMI.