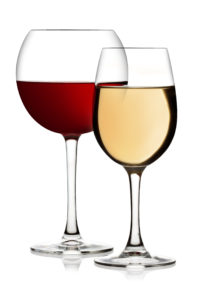 Study after study has found negative health effects from frequent heavy drinking of alcohol, including a number of cancers. On the other hand, light to moderate drinking seems to have some health benefits (here and here). Recently a large study conducted in France found that chronic heavy drinking, which has resulted in alcohol use disorders (alcohol abuse, alcohol dependence, or alcoholism), is the biggest risk factor for developing dementia, especially early onset dementia. Only people with alcohol use disorders which resulted in them being hospitalized were included in the study.
But the surprising thing was that lower levels of "chronic heavy drinking" doesn't seem so much - it's daily consumption of more than 60 grams of pure alcohol  for men, and more than 40 grams of pure alcohol for women. In the United States, a standard drink contains about 14 grams of alcohol - which is a 12 ounce (350 ml) glass of beer, a 5 ounce (150 ml) glass of 12% wine, or a 1.5 ounce (44 ml) glass of spirits. In other words, drinking 3 glasses of wine daily (or more) is heavy drinking for a woman. (Note: The Centers for Disease Control (CDC) views moderate drinking as 1 glass of wine daily for women, and 2 glasses of wine daily for men). 
 From Science Daily: Largest study of its kind finds alcohol use biggest risk factor for dementia
Alcohol use disorders are the most important preventable risk factors for the onset of all types of dementia, especially early-onset dementia. This according to a nationwide observational study, published in The Lancet Public Health journal, of over one million adults diagnosed with dementia in France. This study looked specifically at the effect of alcohol use disorders, and included people who had been diagnosed with mental and behavioural disorders or chronic diseases that were attributable to chronic harmful use of alcohol.
Of the 57,000 cases of early-onset dementia (before the age of 65), the majority (57%) were related to chronic heavy drinking. The World Health Organization (WHO) defines chronic heavy drinking as consuming more than 60 grams pure alcohol on average per day for men (4-5 Canadian standard drinks) and 40 grams (about 3 standard drinks) per day for women. 
Dr. Rehm points out that on average, alcohol use disorders shorten life expectancy by more than 20 years, and dementia is one of the leading causes of death for these people. For early-onset dementia, there was a significant gender split. While the overall majority of dementia patients were women, almost two-thirds of all early-onset dementia patients (64.9%) were men.
Alcohol use disorders were also associated with all other independent risk factors for dementia onset, such as tobacco smoking, high blood pressure, diabetes, lower education, depression, and hearing loss, among modifiable risk factors. It suggests that alcohol use disorders may contribute in many ways to the risk of dementia. .... The authors also noted that only the most severe cases of alcohol use disorder -- ones involving hospitalization -- were included in the study. This could mean that, because of ongoing stigma regarding the reporting of alcohol-use disorders, the association between chronic heavy drinking and dementia may be even stronger.