Most people have heard about the three huge "garbage patches" in the ocean - where tiny pieces of plastic are floating and unfortunately also being eaten by fish and birds. But the story doesn't end there - we, all humans, are also ingesting tiny pieces of plastic, for example when we breathe and eat food (e.g tiny pieces are now in fish and shellfish, so we're also eating tiny pieces of plastic). How much are we inadvertently ingesting?  What is it doing to us? 
These tiny pieces of plastic less than 5 mm in size are called microplastics. As we know, plastic doesn't break down like food and wood (into compost, soil), but it does break apart into tiny particles (from friction, heat, and light). Right now research suggests that we are exposed to more microplastic particles in indoor air then outdoor air - for example, it's in the dust from breakdown of textiles used in our furniture and synthetic fabrics in the clothing we wear and wash. (Fleece especially sheds a lot into the air when worn and into our water when washed.) There are plastic microparticles in the air, in the wind, in our street dust. Examples of microplastics in outdoor air are from the use of vehicles, such as tire abrasion, construction activities, from artificial turf, and plastic litter. It's in our water - in rivers and lakes (and our drinking water), oceans, and in our soil.
Right now no one knows what the effects of ingesting these plastic microparticles are to humans (as pointed out in a 2017 study of urban dust by  Sharareh Dehghani et al) and whether we get rid of them or whether they persist in the body. Or even how much we're ingesting and breathing in. Another concern is whether there is an effect on developing children. Some research finds that microparticles can persist in the lungs.
The good news is that there are things one can do to lower the microplastic amounts in indoor air. To lower the amount of microplastics: open up your windows to vent the air (outdoor air is less polluted generally than indoor air), vacuum frequently, use a good filter on forced air heating systems and central air conditioning systems. Perhaps use a good air purifier. But also reduce the amount of plastics in your indoor environment by buying fewer items made from plastics (from furniture to ordinary household goods to toys to synthetic clothing, especially fleece). Try to buy "natural" as much as possible - especially natural fibers such as cotton, wool, linen, hemp.
Recently there have been a number of articles written about this issue for the general public. Well worth reading is: C. Joyce's article for NPR: Beer, Drinking Water And Fish: Tiny Plastic Is Everywhere 
A World Economic Forum article by Kevin Luo, PhD: Are you breathing plastic air at home? Here's how microplastics are polluting our lungs
Two research articles frequently mentioned are: Gasperi et al in Current Opinion in Environmental Science & Health: : Microplastics in air: Are we breathing it in?  and the Sharareh Dehghani et al study in Environmental Science and Pollution Research: Microplastic pollution in deposited urban dust, Tehran metropolis, Iran.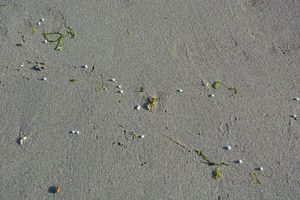 Microplastics (polystyrene foam beads) on beach.  Credit: Wikiwand.
 Plastic (polyethylene) microparticles in toothpaste. Credit: Wikipedia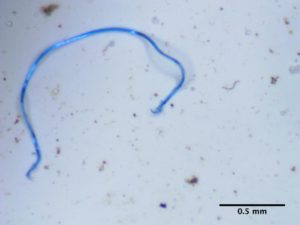 Microfibers found in the Hudson River. Credit: PBS News Hour. Photo by Sara Cathey/Adventure Scientists