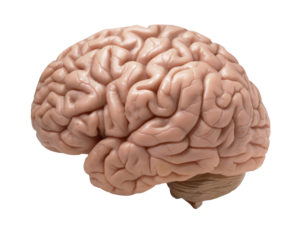 The common parasite Toxoplasmosa gondii is associated with an increased risk of a rare form of aggressive brain cancer called glioma, according to a recent study. Toxoplasmosis is a disease that results from infection with the microscopic Toxoplasma gondii parasite.
People can be exposed to this parasite from infected cat feces, drinking  contaminated water, eating infected undercooked meat (especially pork, lamb, venison). Mother-to-child transmission during pregnancy can also occur. [CDC toxoplasmosis page] Most healthy people recover from toxoplasmosis without treatment, but it can be dangerous for certain groups (e.g. the fetus during pregnancy)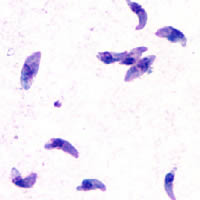 The study found that persons with gliomas are more likely to have antibodies to T. gondii (which means they've had a prior infection), than a similar group that was cancer free. The researchers thought the parasite can sometimes form cysts in the brain, and the inflammation associated with the cysts might be responsible.
The study looked at 2 groups of people, both in the US and in Norway. Another finding was that "some people with glioma have no T. gondii antibodies, and vice versa". (Whew...) The study showed an association, and does not prove cause and effect. However, other studies found similar results.
Gliomas make up the majority of malignant brain tumors, and glioblastomas (with a 5 year survival rate of 5%) are the most common type. Gliomas occur in approximately 6.6 per 100,000 individuals each year. In comparison, it is estimated that 11% of the US population to 60% in some areas of the world have been infected with the T. gondii parasite. And yet the brain cancer is very rare.
From Science Daily: Study identifies exposure to common food-borne pathogen linked to rare brain cancer
A new study suggests a link between toxoplasma gondii (T. gondii) infection and the risk of glioma, a type of brain cancer, in adults. 
 The report, appearing in the International Journal of Cancer, finds that people who have glioma are more likely to have antibodies to T. gondii (indicating that they have had a previous infection) than a similar group that was cancer free. 

For the study, investigators led by James Hodge, JD, MPH and Anna Coghill, PhD examined the association between T. gondii antibodies measured several years before the cancer was diagnosed and the risk of developing a glioma. Study participants were from the American Cancer Society's Cancer Prevention Study-II (CPS-II) Nutrition Cohort and the Norwegian Cancer Registry's Janus Serum Bank (Janus). T. gondii is a common parasite that is most commonly acquired from undercooked meat, and may lead to the formation of cysts in the brain. These results suggest that reducing exposure to this common food-borne pathogen could provide a modifiable risk factor for highly aggressive brain tumors in adults.
From Gizmodo: Scientists Find Link Between Cat Parasite and Brain Cancer in People    
But more recently, scientists have found an intriguing connection between the parasite and subtle neurological effects in people, aided by the fact that cysts can survive silently in the body, including the brain, for decades. Chronic T. gondii infections have been linked to an increased risk of schizophrenia, lowered cognition, and behavioral changes like more risk-taking and aggression. This new study, published in the International Journal of Cancer, indicates that certain types of brain cancer may need to be added to that above list.