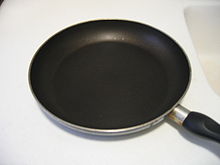 Finally, some good news (perhaps) regarding the damaging,  unregulated, and widely used PFAS (per- and polyfluoroalkyl substances) chemicals. PFAS are man-made chemicals commonly called "forever chemicals" because of how they stick around, persist, and contaminate both humans and the environment. Including our communities, our drinking water (at least 2411 drinking water systems), and military installations.
Last week the US House of Representatives passed a bill (PFAS Action Act, H.R. 2467) that would finally designate certain PFAS compounds as hazardous substances, would regulate PFAS  in drinking water, and would issue grants to help community water systems treat PFAS contaminated water. It would make clean-up of PFAS contamination of groundwater at military installations a priority (PFAS was in the firefighting foams used by the military).
These chemicals have been used for years in many industrial and consumer products, such as food packaging, non-stick cookware, cosmetics,  and products containing stain and water-repellents (e.g. fabrics, carpeting). Even dental floss!
Why the concern? PFAS are known endocrine (hormone) disruptors associated with all sorts of harmful health problems, including cancers, reproductive harm (e.g. poorer semen quality), lowered sex and growth hormones in children, thyroid disease, immune effects, and liver and kidney damage. Unfortunately, they are already found in the bodies of almost all Americans (at varying levels), so we should try to reduce our exposure.
Of course industry opposes the legislation and called it a ban. No, it's not a ban, but a first step in regulating the chemicals and cleaning up contamination. We'll see what happens in the Senate. Will they also pass legislation?
Excerpts from The Beacon: U.S. House passes PFAS bill regulating 'forever chemicals' in drinking water
The U.S. House on July 21 passed bipartisan legislation that would regulate toxic chemicals found in drinking water, as well as designate two types of those toxic chemicals as hazardous substances that would spark federal cleanup standards.  
The bill, H.R. 2467, also known as the PFAS Action Act of 2021, passed 241-183, with 23 Republicans joining Democrats in voting for it.
The legislation would direct EPA to start the regulatory process for regulating per- and polyfluoroalkyl substances, or PFAS, in drinking water and making the decision on whether to set drinking water standards for certain types of PFAS or to regulate the entire class, which ranges from 5,000 to 7,000 substances.
"PFAS chemicals are pervasive, dangerous, and they never fully break down — meaning they accumulate in our environment and in our bodies. It's estimated that just about every American has PFAS in their system," said U.S. Rep. Chellie Pingree, a Maine Democrat who is an original cosponsor of the legislation.
"From our military bases to our drinking water, rain jackets to nonstick pans, PFAS are all around us, but EPA, the US Food and Drug Agency, and the Department of Defense need the resources to address the scope of this problem," Pingress added.
Chemical companies such as DuPont and Dow Chemical along with other businesses used the so-called forever chemicals to make nonstick cookware, waterproof clothing, Scotchgard and other consumer products.
Michigan Democratic Rep. Debbie Dingell, along with Rep. Fred Upton, (R-Mich.), has worked to garner bipartisan support for the bill. Similar PFAS legislation passed the House last year by a 247-159 vote, with 24 Republicans joining Democrats. That bill then died in a Republican-controlled Senate.
Senate Majority Leader Chuck Schumer, (D-N.Y.), has not publicly stated whether he will bring the bill passed by the House on Wednesday to the Senate floor for a vote and there is currently no Senate version of it. The Biden administration did issue a statement of administration policy in support of passage of the House measure.
Studies have linked PFAS contamination to various health problems such as high cholesterol, thyroid disease, and testicular and kidney cancer.