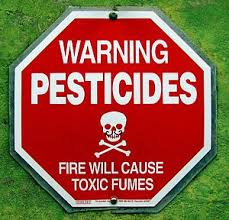 Finally, finally...  the US Environmental Protection Agency (EPA) is banning the use of the pesticide chlorpyrifos on food crops. This is important because we get exposed to the pesticide various ways, but especially from pesticide residues on food. This pesticide should have been banned years ago for the reason that it is dangerous for children - has neurological effects and lowers IQ.
Why did the EPA finally ban it? Back in 1999 the EPA banned "residential" uses of chlorpyrifos, of course with lots of exceptions. Finally, in 2017 the EPA was going to ban it for food use (e.g. crops)  - this was recommended by EPA's own scientists due to huge amounts of research showing harm.
But that decision was reversed by the incoming Trump administration (business interests first!). Of course, that business interests of the pesticide industry come first is not surprising and has been going on for years - it only got worse during the Trump administration.
This year the EPA was forced into the decision banning chlorpyrifos by a court order. The U.S. Court of Appeals for the 9th Circuit in San Francisco in its ruling in May, 2021said, "The EPA has had nearly 14 years to publish a legally sufficient response to the 2007 Petition [filed by environmental and farmworker groups]." The court continued, "During that time, the EPA's egregious delay exposed a generation of American children to unsafe levels of chlorpyrifos."
What exactly is chlorpyrifos? It is an organophosphate insecticide that is currently registered for use on a range of food crops, golf courses, and for public health mosquito control (in cases of mosquito-borne diseases). It is highly acutely toxic.
It is chronic low level exposure (typically through residues on food) that is especially harmful - especially to pregnant women, the developing fetus, and children. In utero exposures to chlorpyrifos can impair a child's learning ability and increase risk of developmental delays, ADHD, and is associated with IQs that are up to 7 points lower than those with little or no chlorpyrifos exposure.
How to avoid toxic pesticides in foods: Eat organic foods as much as possible. Many pesticide levels (e.g. glyphosate and chlorpyrifos) will rapidly decrease - within a week. Pesticide residues can be measured in the blood and urine.
From AP news: EPA bans pesticide linked to health problems in children
The Biden administration said Wednesday it was banning use of chlorpyrifos, a widely used pesticide long targeted by environmentalists, on food crops because it poses risks to children and farm workers.
The Environmental Protection Agency acted after a federal appeals court ordered the government in April to determine quickly whether the pesticide is safe or should be prohibited.
During the Obama administration, the EPA had initiated a ban, but the agency reversed that decision shortly after President Donald Trump took office in 2017. President Joe Biden has pledged a review of more than 100 of his predecessor's environmental regulatory actions.
Chlorpyrifos is applied on numerous crops, including soybeans, fruit and nut trees, broccoli and cauliflower. Studies have linked it to potential brain damage in children and fetuses that could lead to reduced IQ, memory loss and attention deficit disorders.
The European Union, Canada and some states including California, Hawaii, New York, Maryland, and Oregon have restricted application of chlorpyrifos on foods. Those limits -- and development of replacement pest controls -- have led to a decline in farmers' use of chlorpyrifos, EPA said.
EPA said after taking public comments, it would continue reviewing whether to allow use of chlorpyrifos for purposes not directly tied to food production, such as cattle ear tags and mosquito control.
Bills seeking to prohibit use of chlorpyrifos and similar pesticides have been proposed in Congress.