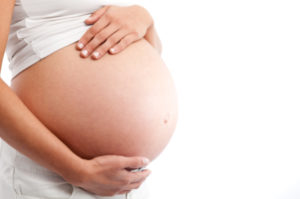 Some depressing news for pregnant women - they are exposed to and contaminated with more harmful industrial chemicals than ever before.
Thousands of chemicals are used in numerous consumer products and in food production (on farms, and in packaging). Not only can we get exposed to industrial chemicals from foods and products, but also from contaminated water, air, and dust.
Researchers looked for the presence of 103 industrial chemicals in the urine of pregnant women across the Unites States. The chemicals included plastics, pesticides, parabens, PAHs, as well as some of the "replacement chemicals" for BPA and phthalates. They found that most women had some of the chemicals in their bodies. Some chemicals were found in almost or ALL of them, including 3 insecticides, 2 parabens, 10 phthalates, and 1 PAH. Yikes!
Keep in mind that replacement chemicals (e.g., BPS for BPA) can be the same or even worse to health than the original chemicals.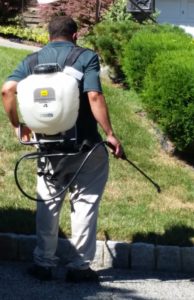 Also, the researchers did NOT look for the presence of some commonly used chemicals (and which are linked to health harms) such as 2,4-D, pyrethroids, chlorpyrifos, and glyphosate. These are pesticides commonly used on (non-organic) farms, but also in our homes and yards. Other studies find the amounts of these pesticides are increasing in humans over the last 2 decades, and that some of these pesticides can be detected in the majority of humans.
Pregnancy is an especially important time in the life of the developing baby, and many chemicals are much more harmful then than at any other time in life. Chemicals to which pregnant women are exposed to cross the placenta - thus getting to the fetus. So it is really important to lower the amount and number of chemicals that a pregnant woman is exposed to.
How to lower your exposure to harmful chemicals: [From list of quick tips]
1) Eat as many organic foods as possible.
2) Avoid using pesticides in your home and garden, and instead look for nontoxic, organic, or least toxic IPM (Integrated Pest Management) solutions.
3) Read labels to avoid phthalates, parabens, "antimicrobial", anti-odor in personal care items.
4) Don't use dryer sheets (not needed!) or detergents or other products with fragrances.  [ Complete list of quick tips.]
Two good, but different write-ups of the research: 1) From Medical Xpress: Study of pregnant women finds increasing exposure to chemicals from plastics and pesticides
A national study that enrolled a highly diverse group of pregnant women over 12 years found rising exposure to chemicals from plastics and pesticides that may be harmful to development.
Many of the chemicals that the women had been exposed to were replacement chemicals: new forms of chemicals that have been banned or phased out that may be just as harmful as the ones they replaced. The study also found many women had been exposed to neonicotinoids, a kind of pesticide that is toxic to bees.
Researchers measured 103 chemicals, mostly from pesticides, plastics, and replacement chemicals for BPA and phthalates, using a new method that captured dozens of chemicals or chemical traces from a single urine sample.
More than 80 percent of the chemicals were found in at least one of the women in the study, and more than a third of the chemicals were found in a majority of the participants. The study also found that some of these chemicals were present in higher amounts than seen in earlier studies.
The study included 171 women from California, Georgia, Illinois, New Hampshire, New York, and Puerto Rico who are part of the National Institutes of Health Environmental influences on Child Health Outcomes program. About one-third (34%) were white, 40% were Latina, 20% were Black, and the remaining 6% were from other or multiple groups.
The study found higher exposures for non-white women, those with lower educational attainment, or who were single or had been exposed to tobacco. But Latinas had especially high levels of parabens, which are used as preservatives, as well as phthalates and bisphenols, which are used in plastics.
2) Excerpts from Beyond Pesticides: Study Finds Chemical Exposure Increasing among Pregnant Women
Pregnant women are being exposed to increasing amounts of dangerous industrial chemicals, according to research published this week in Environmental Science and Technology.  The chemicals in question include pesticides, plastics, and parabens, as well as 'replacement chemicals' for substances like phthalates and bisphenols that have gained notoriety for risks to public health.
With a range of scientific data highlighting chemical exposures during pregnancy as a critical window of vulnerability, public awareness of these growing threats, and meaningful action by government regulators to reduce exposure is needed.  
The results of this study follow the release of data last year finding over 100 different chemicals in U.S. pregnant women's blood and umbilical cord samples.
For the present study, however, researchers did not merely detect these chemicals, they tracked exposure levels over the course of 12 years. The cohort of 171 women represents a diverse group from seven American states and territories (including New Hampshire, New York, Puerto Rico, Illinois, California, and Georgia), with 20% of women participating Black, one third white, 40% Latina, and the remaining from other or multiple groups. Over the course of the study, routine monitoring was conducted utilizing an advanced diagnostic method that permits analysis of dozens of chemicals from a single urine sample.
Of the 103 chemicals reviewed, over 80% is detected in at least one woman enrolled in the research. One third of the compounds is found in over 50% of women. In particular, the study finds that many women have levels of neonicotinoid insecticides in their urine. Although widely known for their hazards to pollinators, a range of data over the last decade has pointed to concerning impacts on human development from prenatal exposure. Peer-reviewed studies have linked these exposures to autism like symptoms, birth defects in the heart, and birth defects in the brain, per a review by the Natural Resources Defense Council.