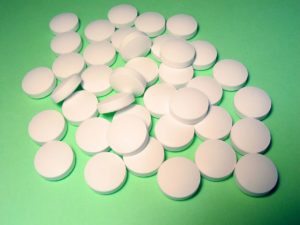 Research has found that antibiotics disrupt a person's normal gut microbiome (microbial community), especially because the antibiotics kill both bad (pathogenic) and beneficial bacteria. But what about other medicines? Do they also have an effect?
A recently published study that reviewed the research looked precisely at that topic and found that YES - other medicines (besides antibiotics) also have an effect on (disrupt) the gut microbiome. The different categories of drugs - proton pump inhibitors (PPIs), metformin, nonsteroidal anti-inflammatory drugs (NSAIDs), opioids, statins and antipsychotics - all had different kinds of impacts on the gut microbiome.
The researchers also suggest that other types of commonly prescribed medicines now need to be examined for their impact on the intestinal (gut) microbiome, such as thyroid hormones, contraceptive drugs, and antihypertensive (high blood pressure) drugs. Excerpts from Dr. Paul Enck's article about the study at Gut Microbiota Research and Practice:
A systematic review explores the role of non-antibiotic prescription drugs in gut microbiota dysbiosis
Both diet and medications are among the strongest variables affecting the gut microbiome. When it comes to medications, although antibiotics have been repeatedly shown to affect the human gut microbiome, little is known regarding the impact of non-antibiotic prescription drugs on the gut microbiome.
A review, led by Dr. Emmanuel Montassier from the MiHAR Lab at Institut de Recherche en Santé 2, Université de Nantes (Nantes, France), has concluded that some non-antibiotic prescription drugs have a notable impact on the gut microbiome to the same extent as antibiotics.  ...continue reading "Common Medicines That Disrupt the Normal Gut Microbiome"