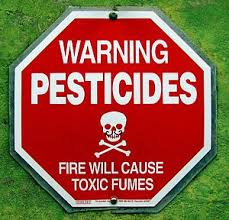 Another study with concerning results for children and pregnant women has been published. This time researchers found a commonly used fungicide in a majority of children and all pregnant women studied. Some children had chronic exposure. A small study, but still...
The fungicide is azoxystrobin, and is commonly used on crops (e.g., cereals, grapevines, potatoes, fruits, nuts, and vegetable crops), lawns, and in mildew and mold-resistant wallboard used in home construction. The fungicide migrates out of the wallboard (sheetrock) and is found in house dust. Thus, humans can have chronic exposure to it.
And yes, this fungicide has worrisome health effects in animal studies - for example, toxic to embryos, neurotoxicity, brain inflammation. Studies in pregnant mice found that the fungicide went from the mother to the developing babies by crossing the placenta and then entered the developing brain. Much is unknown and studies need to be done!
The problem is that in the USA chemicals are easily approved by the government for use, and it is up to consumers and researchers later to prove harm. But typically that is not enough to get any changes and the chemicals in question keep on being produced and used and causing harm.
What to do? Eat organically grown food. The fungicide is not allowed on organic crops. Don't use pesticides on your lawn. If renovating or constructing a home - avoid mold and mildew-resistant wallboard brands.
From Medical Xpress: Scientists detect common fungicide in pregnant women and children
For the first time, UNC-Chapel Hill researchers have measured the concentration of a biomarker of the commonly used fungicide azoxystrobin (AZ) in the urine of pregnant women and children ranging from 40–84 months of age. They also documented maternal transfer of AZ to mouse embryos and weaning-age mice.  ...continue reading "Commonly Used Fungicide Detected In Pregnant Women and Children"