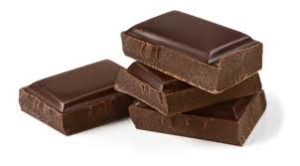 It is great to find a good news study these days, and this one is especially good news for chocolate lovers. Researchers reviewed 6 large studies from the last few decades and found that chocolate consumption more than once a week is associated with a reduced risk of coronary artery disease (CAD).
Coronary artery disease is the hardening and narrowing of the arteries that supply blood to the heart, and is caused by plaque buildup (cholesterol deposits) on the wall of the arteries.
The researchers think that chocolate could be "cardioprotective" (heart-protecting) because of the nutrients in chocolate, all of which have been found to have beneficial health effects in other studies. These are flavanols, polyphenols,  methylxanthines, and stearic acid. In this study they did not address the issue of types of chocolate (dark, milk) or whether eating chocolate more frequently (e.g. daily) is even better.
In recent years, other studies of chocoalte have found not only cardiovascular benefits, but that it also reduces inflammation, and that there are dose-dependent (the more chocolate, the better) improvements in cognition, attention, and memory.
From Science Daily: Chocolate is good for the heart
Eating chocolate at least once a week is linked with a reduced risk of heart disease, according to research published today in the European Journal of Preventive Cardiology, a journal of the European Society of Cardiology (ESC). ...continue reading "Chocolate Appears to Be Good For the Heart"