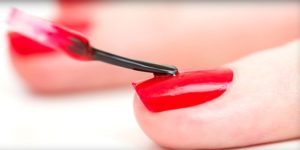 Beware of nail polish because it may be contaminating your body with an endocrine disrupting chemical.  A study co-authored by researchers at Duke University and Environmental Working Group (EWG) detected evidence of a common nail polish chemical called triphenyl phosphate, or TPHP, in the bodies of every woman who volunteered to paint her nails for the study.There is growing evidence suggesting that TPHP may affect hormone regulation, metabolism, reproduction and development. Unfortunately, even if it is not listed on the label, it may still be in the product. It is also used as a fire retardant (and the evidence from studies says to avoid fire retardants). Go to the EWG site for more on nail polish brands.From Environmental Working Group (EWG):
Duke-EWG Study Finds Toxic Nail Polish Chemical In Women's Bodies
Researchers at Duke University and Environmental Working Group have found evidence of a suspected endocrine-disrupting chemical widely used in popular nail polishes in the bodies of more than two-dozen women who participated in a biomonitoring study. The study, published today in Environment International, found that all women had a metabolite of triphenyl phosphate, or TPHP, in their bodies just 10 to 14 hours after painting their nails. Their levels of diphenyl phosphate or DPHP, which forms when the body metabolizes TPHP, had increased by nearly sevenfold.
According to EWG's Skin Deep® cosmetics database, more than 1,500 nail products including polishes made by Sally Hansen, OPI and Wet N Wild, contain TPHP. Click here for a list of brands that list TPHP as an ingredient. More nail polishes may contain undisclosed TPHP.  The Duke-EWG study tested 10 polishes for TPHP and found the chemical in eight of them. Two of the eight with TPHP did not list the ingredient on their labels.  ...continue reading "Secret Hazard of Nail Polish"