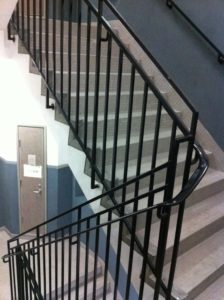 Doctors now have an easy test for determining your heart health, according to European researchers. Anyone can take the test - just need access to staircases and wear comfortable sneakers or shoes. The test: time it takes to climb 4 flights of stairs or 60 steps.
According to the researchers, the best is being able to climb the stairs at a fast pace, without stopping, in 45 seconds or less (heart health!). A sign of poorer ("suboptimal") heart health is taking 1 1/2 minutes or more to do it. The researchers go on to discuss how heart health is linked to risk of death over the next ten years.
From Science Daily: Test your heart health by climbing stairs
Climbing four flights of stairs in less than a minute indicates good heart health, according to research presented at EACVI -- Best of Imaging 2020, a scientific congress of the European Society of Cardiology (ESC).   ...continue reading "Climbing Stairs Is An Easy Test Of Heart Health"