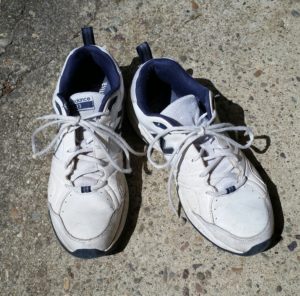 We all know that exercise is beneficial for health. Research suggests that exercising out in nature is best for several varied reasons -  including that it lowers markers of inflammation, and that it's good for our gut microbiome (community of gut microbes). The following excerpts are written by Dr. John La Puma encouraging other doctors to prescribe exercise for their patients and why.
An important message of his is that exercise is more important than a drug prescription for a number of conditions, including diabetes prevention, reducing the risk of recurrence of several cancers (he mentions breast cancer, but it also holds for prostate cancer). While exercising and walking out in nature may be best, any exercise anywhere is better than no exercise. (Other posts on exercise as prescription medicine are here and here; and check the category exercise for all exercise research posts).
From Medscape: Rx: Exercise Daily -- Outdoors. Doctor's Orders
With dazzling Olympic feats on display all summer, too many of my patients are still literally immobilized. Medically, sitting too long shuts off the enzyme lipoprotein lipase. In people who are sedentary, the enzyme doesn't break down fat to create energy, like it should. But medical prescription for exercise has lagged even the slowest runner. Why? Some reasons are time, training, and money. Time especially is a scarce commodity: The average clinician visit lasts just 20 minutes. Fitness is a shamefully small part of medical training. And as doctors, we don't get paid for discussing exercise, let alone monitoring a prescription and assessing the response. 
Finally, there are practical reasons. Clinicians find it difficult to persuade patients that exercise is more effective than medication for any number of conditions, including stroke recovery, diabetes prevention, and treatment of low back pain. Regular exercise reduces the risk for recurrent breast cancer by approximately 50%. Given all these reasons, it's easy to see why fitness prescriptions are seldom more than an afterthought. Yet even without formally prescribing the frequency, intensity, time, and type of exercise, clinicians can speak with patients and families about fitness in inspiring, life-changing ways.
Because clinicians have a secret weapon to use that most people don't even know about—location. Exercising in nature (in sight of and preferably near water or greenery, whether a deserted beach or an urban park) is better. Walking city streets and the office itself can be harder on your health than you think. In both environments, your attention is demanded and directed—sometimes by digital interruptions, sometimes by vehicles, toxins, or duties. In nature, your attention is drawn, not pushed, to a variety of often unexpected but not unpleasant sounds, colors, aromas, textures, and forms.
A recent Stanford study of nature therapy showed significantly reduced rumination after a 90-minute walk in nature, compared with a 90-minute walk through an urban environment. On MRI, "nature walkers" showed lower activity in an area of the brain linked to risk for mental illness, the subgenual prefrontal cortex, compared with "urban walkers." In other words, nature offers a sense of something bigger than ourselves on which to focus. MRIs show the way the brain changes when that sense occurs to us.
Exercising in nature may improve a person's immune system by enriching the diversity in the microbiota. Microbiota buffer the immune system against chronic stress-related disease. They appear to act as a hormone-producing organ, not simply a collection of beneficial bacteria. Microbiota are sensitive and responsive to physical environmental changes as well as dietary ones. So, exercise in nature may favorably boost microbiota.
And finally, exercise in nature is clinically preferred and calming. A Norwegian study showed that exercise in nature and in view of nature improves both mood and diastolic blood pressure vs exercise without nature. A Chinese study showed higher energy levels, and lower levels of interleukin-6 and tumor necrosis factor (both markers of inflammation), in a forest walking group compared with an urban exercising group. A British study showed significantly improved mood and self-esteem with "green" exercise, with the largest benefits from 5-minute engagements. Five minutes!
Of course, there are areas in our country and world in which it is dangerous to walk, never mind exercise. It may not be as easy to generate sweat and intensity with outdoor exercise as it is with indoor exercise. It may be stormy, or baking hot, or otherwise harsh outside, and the cool recesses of one's own bedroom or the gym may be just perfect for you today. And with the 2013 total cost of inactivity estimated at $24.7 billion for the United States, and with the public sector bearing almost one half of that expense, any exercise anywhere is better than none.  Yet physicians have a therapeutic tool few others in our culture wield—a prescription pad—and we have every patient's attention, at least for a few minutes. Patients try harder when doctors advise them about fitness.