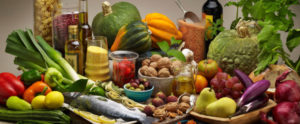 A recently published study was good news for those who eat organic foods. The large French study (about 69,000 people) found a  significantly lower risk of getting cancer (25% lower) in people who ate a lot of organic food - when compared to people who rarely or never ate organic food.
The participants in the study were followed for an average of 4.6 years. Cancers with the greatest decreased risk were breast cancer (especially in postmenopausal women) and all lymphomas, especially non-Hodgkin lymphoma.
The researchers summarized the findings as:  "In a population-based cohort study of 68 ,946 French adults, a significant reduction in the risk of cancer was observed among high consumers of organic food." and "...if the findings are confirmed, promoting organic food consumption in the general population could be a promising preventive strategy against cancer." This could be an easy way to cut cancer risk! (Other organic food benefits.)
Of course the pesticide and conventional agriculture industry went nuts attacking the study - this finding goes against their message that pesticides are fine and necessary, don't worry about pesticide residues in food, and that antibiotics and other medicines are safe when given routinely to animals.
Unfortunately, research finds that a number of pesticides used in conventional farming are considered carcinogenic (cancer causing), and pesticide residues are found in conventionally grown foods. Eating conventional foods every day results in chronic low-dose pesticide residue exposure. The researchers suspect the pesticide residues in foods is the reason for the higher cancer risk. [Note: those pesticides are not allowed to be used in organic farming.]
What foods did the researchers ask about? They asked people about the consumption of 16 types of labeled organic food products: fruits; vegetables; soy-based products; dairy products; meat and fish; eggs; grains and legumes; bread and cereals; flour; vegetable oils and condiments; ready-to-eat meals; coffee, tea, and herbal tea; wine; biscuits, chocolate, sugar, and marmalade; other foods; and dietary supplements. In other words, all the foods we eat daily.
But what I found really interesting was a review of the study by Dr. Charles Benbrook (Visiting Scholar in the Bloomberg School of Public Health, Johns Hopkins University, and a Visiting Professor at the Univ. of Newcastle in the UK). He correctly points out that the results are big news and a big deal.
Excerpts from Environmental Health News: Charles Benbrook: New study showing organic diets cut cancer risk is a big deal. Let's treat it that way.      ...continue reading "Lower Cancer Risk By Eating Organic Food?"