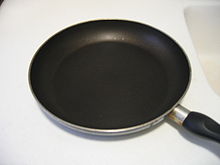 Does exposure to common PFAS chemicals contribute to an earlier age for menopause? A recent University of Michigan study found an association between blood levels of PFAS (per-and polyfluoroalkyl substances) in women and age at menopause. Women with the highest levels of PFAS in their blood had menopause 2 years earlier than those with lower levels.
PFAS are commonly known as "forever chemicals" because they persist in the environment and in humans. These chemicals have been widely used in many industrial and consumer products, such as non-stick cookware and food packaging, including microwave popcorn bags. They are also endocrine (hormone) disruptors and are thought to have an effect on ovarian aging.
What you can do: Don't microwave food, including popcorn, in the packaging it came in. Use microwave safe dishes instead.  Also, avoid nonstick cookware, and instead use plain stainless steel cookware.
From Science Daily: PFAS exposure may cause early menopause in women
Per- and polyfluoroalkyl substance (PFAS) exposure may cause menopause to occur two years earlier in women, according to a new study published in the Endocrine Society's Journal of Clinical Endocrinology & Metabolism.  ...continue reading "Common PFAS Chemical Exposure and Age At Menopause"