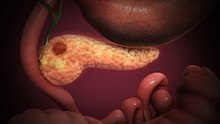 Pancreatic cancer is typically discovered only when it is advanced, very hard to treat, and typically with poor outcomes. Interesting recent research found that the gut microbiome is distinctive in persons with pancreatic cancer, even in the early stages. Perhaps this finding will lead to an easy noninvasive way to screen for pancreatic cancer.
Researchers in Spain and Germany looked at both the community of microbes (microbiome) living in the mouth and the gut (shown in a person's feces). They took samples from healthy persons, individuals with pancreatic cancer, and persons with chronic pancreatitis  and found that the bacteria in the stool were predictive for pancreatic cancer (but not those in the mouth).
The "fecal microbiota signature" or pattern of microbes in those with pancreatic cancer had an increase in some microbes (e.g., Fusobacterium nucleatum) and a decrease in others (e.g., Faecalibacterium prausnitzii) - when compared to healthy individuals.
By the way, Fusobacterium nucleatum is found increased in other cancers, such as colon cancer, and beneficial and anti-inflammatory Faecalibacterium prausnitzii is reduced in a number of diseases. Eating a diet rich in high fiber foods (whole grains, fruits, vegetables, legumes, seeds, nuts) increase the numbers of F. prausnitzi in a person's gut microbial community.
From Medical Xpress: Distinct gut microbial profile may identify pancreatic cancer, irrespective of stage
A specific panel of gut microbes may identify pancreatic cancer, irrespective of how far the disease has progressed, suggests research published online in the journal Gut. ...continue reading "Pancreatic Cancer Has a Distinct Gut Microbial Pattern"