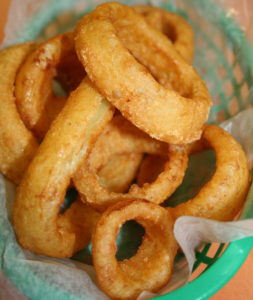 Another study is adding to the evidence that food packaging  is frequently coated  with harmful chemicals - called perfluorinated chemicals or PFCs. The chemicals are used because they resist grease and stains, but unfortunately they then leach into the food, and when people eat the food - it gets into them. The evidence is also growing that these chemicals have all sorts of harmful health effects, including endocrine disruption (they are hormone disruptors) - even in low doses. They are linked to kidney and testicular cancer, high blood cholesterol levels, thyroid problems, development and immune system problems, low birth weights, and decreased sperm quality. (See earlier post) The list keeps growing each year.
Researchers tested about 400 pieces of food packaging from 27 fast food chains,  including McDonald's, Burger King, Taco Bell, Chick-Fil-A, Quiznos, Starbucks, and Dunkin' Donuts (see how they scored). Overall, about 33 percent of the packages contained fluorine (a chemical not found in paper, but is an indicator of perfluorinated chemicals present to make the packaging grease and stain resistant). What is even more disturbing is that when the researchers more closely examined 20 samples to find out exactly what fluorinated compounds they contained - they found that 6 of the more rigorously tested packages contained PFOA (which was used in Teflon). PFOA was phased out for use in the USA years ago due to it being so long-lasting in the environment and its serious health effects, but other countries still produce it. Unfortunately, even the replacement chemicals  seem to be similarly harmful (not surprising because of the chemical similarities), and they also persist in the environment.
It should be pointed out that perfluorinated chemicals are also used in products such as stain and water resistant coatings on clothing, upholstery, carpeting and floor waxes. They are in non-stick coatings in pots and pans. The chemicals leach or migrate out of products and degrade very slowly — thus showing up in air, household dust, water, dirt, wildlife, and people. Yes, studies show that almost everyone in the U.S. has these chemicals in their blood, and unfortunately some of them can stay in the body for years. PFCs pass from mothers to their babies during pregnancy, and in breast milk after birth. Exposure to perfluorinated chemicals from fast food packaging is of big concern for children, because one-third of U.S. children consume fast food daily, and children may be especially susceptible to the adverse health effects.
Yes, we are surrounded by a sea of harmful chemicals that are tough to avoid, but we should at least try to minimize our exposure. Fast food restaurants should be encouraged to use nontoxic alternatives (e.g., aluminum foil or wax paper) - after all, the study showed that there is packaging out there without these chemicals.
What can we do to avoid PFCs? 1) Try to avoid or eat less fast food and food that comes in "grease-proof" containers. 2) Don't use non-stick pots and pans - use stainless steel instead. 3) Try to avoid clothing, upholstered furniture, and carpets with stain and water-resistant coatings. 4) Don't use microwave popcorn bags, and try to avoid microwaving foods in their packaging - use a glass dish instead. 5) Don't use dental floss such as Oral-B Glide dental floss (uses PFC), and use unwaxed or natural wax floss instead. 6) Avoid personal care products that contain ingredients that include the words "fluoro" or "perfluoro". *Please check out the Environmental Working Group site for more information (here and here).
From Science Daily: Extensive use of fluorinated chemicals in fast food wrappers: Chemicals can leach into food
Americans may be consuming fast food wrapped in paper treated with perfluorinated chemicals (PFCs) -- the same chemicals used in stain-resistant products, firefighting materials and nonstick cookware, according to a new study published in the journal Environmental Science & Technology.
Researchers tested more than 400 samples of packaging materials, including hamburger and sandwich wrappers, pastry bags, beverage cups and French fry containers, and found evidence of fluorinated compounds called per- and polyfluoroalkyl substances (PFASs). Of the materials tested, these chemicals were found in 56 percent of dessert and bread wrappers, 38 percent of sandwich and burger wrappers and 20 percent of paperboard.
Previous studies have shown that these PFASs can migrate, contaminating the food and, when consumed, accumulating in the body....Previous studies have linked PFASs to kidney and testicular cancers, thyroid disease, low birth weight and immunotoxicity in children, among other health issues. The chemicals have an especially long half-life and take many years before just 50 percent of the intake leaves the human body. The results are concerning when considering the role of fast food in the American diet. The National Center for Health Statistics reported one-third of U.S. children consume fast food daily.
Samples were collected from a total of 27 fast food restaurant chains including McDonald's, Burger King, Chipotle, Starbucks, Jimmy Johns, Panera and Chick-Fil-A, in and around Boston, San Francisco, Seattle, Washington, D.C., and Grand Rapids, Michigan. The study did not include takeout containers, such as Chinese food boxes or pizza boxes. [Original study]