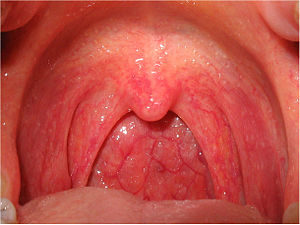 Shucks... A randomized controlled trial (the best kind of study) found that probiotics and xylitol did NOT help sore throat symptoms. Sore throats are medically known as pharyngitis. Xylitol is a birch sugar that causes local "bacterial interference" by inhibiting bacterial growth and the adherence of bacteria to the pharyngeal wall (the throat). The probiotics (beneficial bacteria) that they tested were strains of  Lactobacillus acidophilus, Bifidobacterium bifidum, and Bifidobacterium animalis. They also tested sorbitol chewing gum, which does not have any antiviral or antibacterial properties. Not one of these alone or combined had any effect on sore throat symptoms.
My take on this: perhaps other species of probiotics might help - maybe yes, maybe no. Just testing 3 strains of bacteria is too soon to rule out probiotics. This view is based on our (and others) experiences with chronic sinusitis - that it takes very specific bacteria species (especially Lactobacillus sakei) to treat sinusitis, and just taking some random strains may not help at all. From Science Daily:
New RCT shows no benefit from probiotics, xylitol chewing gum in alleviating sore throats
The use of probiotics and xylitol chewing gum to alleviate sore throat symptoms -- as an alternative to antibiotics -- appears to have no effect, according to a randomized controlled trial (RCT) published in CMAJ (Canadian Medical Association Journal).
Evidence exists that indicates probiotics and xylitol, a birch sugar that prevents bacterial growth, can help reduce recurrence of upper respiratory tract infections.
The study included 934 people in the UK during the four year study period (June 2010 to 2014), of whom 689 provided complete data for the trial. Using a symptom diary, participants reported the number of probiotic capsules and sticks of chewing gum used each day, as well as the severity of symptoms. They were study "compliant" if they had taken 75% of their allotted treatment.
Researchers found no significant effect of either probiotics or xylitol on sore throat (pharyngitis) symptoms. "There were no significant differences between groups for both the xylitol and the probiotic groups, which suggests that neither intervention helped in controlling acute symptoms," the authors write. [Original study.]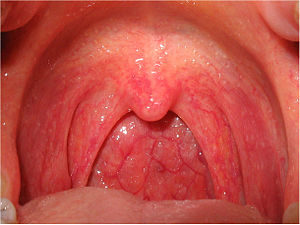 Sore throat. Credit: Wikipedia