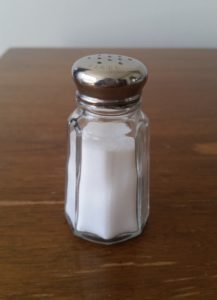 Eating a diet high in salt weakens the immune system's ability to fight harmful bacteria, according to a recent study. We all know that a high salt diet can increase blood pressure, but here is another good reason to lower salt intake.
The study by German researchers showed that a high salt diet can impair the antibacterial response of the immune system, both in mice and in humans. This occurs in an indirect way (through an effect on glucocorticoids), which ultimately results in a reduced or impaired ability of the immune system (through the neutrophils) to kill or control bacteria.
These results were interesting since some earlier studies suggested that higher intake of salt may help fight off parasitic skin infections.
What is a high salt diet? The human volunteers in the study ate an extra 6 grams of salt per day for one week, which is the amount in two fast food meals (e.g. two burgers and two portions of French fries). The World Health Organization recommends no more than 5 grams of salt per day, and the US CDC recommends less than 2300 mg per day. Both organizations say that most people eat more salt than recommended, and the CDC points out that the majority of American sodium intake is from processed foods and restaurant meals.
From Medical Xpress: Too much salt weakens the immune system  ...continue reading "Salt and The Immune System"