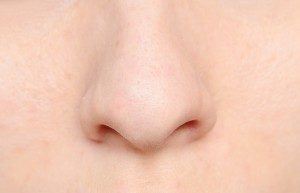 The following is a study with weird results, really weird results. And it makes me think of all the times I've heard people joke: "just smelling food makes me gain weight", because we all knew it wasn't true. But what if it was true? .... The results of this study done in mice are that actually smelling the food one eats results in weight gain, and not being able to smell the food results in weight loss - even if both groups eat the same amount of food. And the "supersmellers" (those with a "boosted" sense of smell) gained the most weight of all.
What? How could that be? Yes, the study was done in mice, but perhaps it also applies to humans (the researchers think so). The researchers think  that the odor of what we eat may play an important role in how the body deals with calories - if you can't smell your food, you may burn it rather than store it. In other words, a link between smell and metabolism. Excerpts from Science Daily:
Smelling your food makes you fat
Our sense of smell is key to the enjoyment of food, so it may be no surprise that in experiments at the University of California, Berkeley, obese mice who lost their sense of smell also lost weight. What's weird, however, is that these slimmed-down but smell-deficient mice ate the same amount of fatty food as mice that retained their sense of smell and ballooned to twice their normal weight. In addition, mice with a boosted sense of smell—super-smellers—got even fatter on a high-fat diet than did mice with normal smell.  ...continue reading "Lose Weight If You Can't Smell Your Food?"