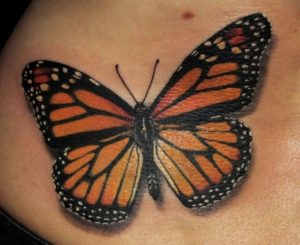 Tattoos are very popular these days, with about 29% of Americans having one or more. But there also is concern because so little is known about tattoo inks and any health effects on the body, and because adverse effects (e.g. inflammatory reactions) can occur months or years later. One study of 300 people in New York City with tattoos found that 10.3% reported experiencing an adverse tattoo reaction, of which 6% reported suffering from a chronic reaction from a specific color (especially red and black ink) that lasted for more than 4 months.
Now a new study in the journal Scientific Reports reports that microscopic particles from tattoo inks can migrate into the body and wind up in the lymph nodes of the immune system. Most tattoo inks contain particles of varying sizes - with some being very small nanoparticles. The researchers analyzed the skin and lymph nodes of 4 tattooed corpses and 2 corpses with no tattoos. They found the presence of several toxic elements such as nickel, chromium, cadmium, aluminum from the colorful tattoo inks. They found tattoo pigment particles in the skin, and that smaller ink nanoparticles had traveled to the lymph nodes - which leads to chronic enlargement of those lymph nodes, as well as lifelong exposure. From Science Daily:
Nanoparticles from tattoos travel inside the body, scientists find
The elements that make up the ink in tattoos travel inside the body in micro and nanoparticle forms and reach the lymph nodes according to a study published in Scientific Reports on 12 September by scientists from Germany and the ESRF, the European Synchrotron, Grenoble (France). 
The reality is that little is known about the potential impurities in the colour mixture applied to the skin. Most tattoo inks contain organic pigments, but also include preservatives and contaminants like nickel, chromium, manganese or cobalt. Besides carbon black, the second most common ingredient used in tattoo inks is titanium dioxide (TiO2), a white pigment usually applied to create certain shades when mixed with colorants. TiO2 is also commonly used in food additives, sun screens, paints. Delayed healing, along with skin elevation and itching, are often associated with white tattoos, and by consequence with the use of TiO2. 
"We already knew that pigments from tattoos would travel to the lymph nodes because of visual evidence: the lymph nodes become tinted with the colour of the tattoo. It is the response of the body to clean the site of entrance of the tattoo. What we didn't know is that they do it in a nano form, which implies that they may not have the same behaviour as the particles at a micro level. And that is the problem: we don't know how nanoparticles react," explains Bernhard Hesse, one of the two first authors of the study and ESRF visiting scientist.
X-ray fluorescence measurements on ID21 allowed the team to locate titanium dioxide at the micro and nano range in the skin and the lymphatic environment. They found a broad range of particles with up to several micrometres in size in human skin but only smaller (nano) particles transported to the lymph nodes. This may lead to the chronic enlargement of the lymph node and lifelong exposure.  [Original study.]