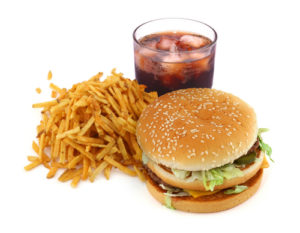 A recent study published in BMJ (British Medical Journal) found a link between high consumption of ultra-processed food and higher rates overall of cancer, but also a higher risk of breast cancer. Specifically, a 10% increase in the proportion of ultra-processed foods in the diet was associated with a greater than 10% increase of overall cancer and 11% increase of breast cancer during the 6+ years of the study.
Alarmingly (because of the health implications), several surveys (in Europe, the US, Canada, New Zealand, and Brazil) have suggested that ultra-processed food products are now between 25 to 50% of calories eaten every day.
Ultra-processed food is food that is highly processed. It is food that is mass produced and packaged, as well as foods that have manufactured substances in them - such as hydrogenated oils (also contains trans fats), protein isolates, additives, preservatives, artificial or natural flavors, colors, nitrites (in processed meat), titanium dioxide (nanoparticles), etc. The food packaging can leach chemicals such as pthalates (endocrine disruptors). The list goes on and on and on. All of these things in ultra-processed foods may be involved in causing health problems, including cancer. They are typically also poorer nutritionally and higher in salt than unprocessed or minimally processed foods. These ultra-processed foods that are so popular are all around us - in fast food, in mass produced desserts and breads, packaged snacks, soups, cold cuts, margarine, frozen or shelf stable ready to eat meals, instant foods, sodas and drinks, etc.
On the other hand, unprocessed or minimally processed foods are fresh, dried, ground, chilled, frozen, pasteurised, or fermented foods such as fruits, vegetables, legumes (beans), rice, pasta, eggs, meat, fish, or milk. There are also "processed culinary ingredients"  which are salt, vegetable oils, butter, sugar, and other substances extracted from foods and used in kitchens to transform unprocessed or minimally processed foods into "culinary preparations" (meals). The study did NOT find any association with unprocessed, minimally processed, or processed culinary ingredients with cancer. Only with the ultra-processed food. Instead, the study found that higher consumption of "minimally/unprocessed foods" (and lower ultra-processed food) was associated with lower risks of overall cancer and breast cancer.
So an apple is unprocessed, and plain apple sauce made with just apples is minimally processed, while a packaged apple dessert with additives added is ultra-processed. Think of it as "transformed food". Also keep in mind that your beneficial gut microbes like unprocessed or minimally processed food - especially those high in fiber. You know - a diet rich in fruits, vegetables, whole grains, seeds, nuts, legumes (beans).  ...continue reading "Ultra-Processed Food and Risk of Cancer"