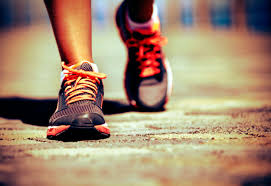 Walking is important for health, but walking speed is also important. It turns out that slow walking speed or gait (particularly when trying to walk as fast as possible) is a problem sign already in mid-life (the 40s). Researchers found that slow walking speed is a sign of "accelerated aging",  and that slow walkers exhibited such signs as reduced brain volume, cortical thinning, and reduced brain surface area.
The Duke University researchers found that a slow walking speed at midlife was associated with poorer mental functioning, and that there was an average difference of 16 IQ points between the slowest and fastest walkers. The researchers point out that this matches other studies showing that there is an association of slow walking speed of older adults and cognitive impairment and risk of dementia. The researchers viewed midlife gait speed as a summary of life-long aging, and felt that some differences were apparent already at the age of three. [This was a 5 decade long study in New Zealand of 904 persons.]
From Medical Xpress: Slower walkers have older brains and bodies at 45
The walking speed of 45-year-olds, particularly their fastest walking speed without running, can be used as a marker of their aging brains and bodies.  ...continue reading "Are You A Slow Or Fast Walker?"