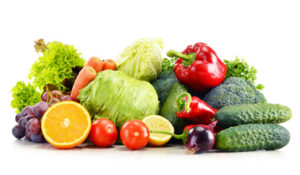 Well DUH, of course eating organic foods lowers pesticide exposures. And yes, it can be measured in your body. So, as previous studies have shown, replacing regular fruits and vegetables (conventionally grown) with organic fruits and vegetables will lower your exposure to pesticides and the levels in your body.
And why is this important? Research shows health effects from pesticides, so it is healthier for you to lower your pesticide exposures - whether from eating food, or from your house and your yard (breathing it in, getting it on skin).
From Science Daily: Organic food reduces pesticide exposure
While health-conscious individuals understand the benefits of eating fresh fruits and veggies, they may not be aware of the amount of pesticides they could be ingesting along with their vitamin C and fiber. A new study to be published in the Feb. 5 edition of Environmental Health Perspectives is among the first to predict a person's pesticide exposure based on information about their usual diet.
Curl and her colleagues analyzed the dietary exposure of nearly 4,500 people from six U.S. cities to organophosphates (OPs), the most common insecticides used on conventionally grown produce in the United States. OP pesticides are linked to a number of detrimental health effects, particularly among agricultural workers who are regularly exposed to the chemicals.
Results showed that among individuals eating similar amounts of fruits and vegetables, those who reported eating organic produce had significantly lower OP pesticide exposures than those consuming conventionally grown produce. In addition, consuming those conventionally grown foods typically treated with more of these pesticides during production, including apples, nectarines and peaches, was associated with significantly higher levels of exposure. "For most Americans, diet is the primary source of OP pesticide exposure," said Curl "The study suggests that by eating organically grown versions of those foods highest in pesticide residues, we can make a measurable difference in the levels of pesticides in our bodies."
The researchers were able to predict each participant's exposure to OP pesticides based on the amount and type of produce each participant typically ate and the U.S. Department of Agriculture's measurements of pesticide residue levels on those foods. The researchers then compared these predictions to pesticide metabolite levels measured in urine samples from a subset of 720 of these people.
"The next step is to use these exposure predictions to examine the relationship between dietary exposure to pesticides and health outcomes, including neurological and cognitive endpoints. We'll be able to do that in this same population of nearly 4,500 people," she said.
One way people can reduce their pesticide exposure, said Curl, is to eat organic versions of those foods that are listed on the Environmental Working Group's "Dirty Dozen" list, which ranks fruits and vegetables according to pesticide residue level.