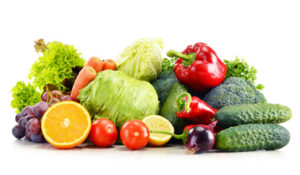 Want to reduce your risk of getting type 2 diabetes? Two large studies published in the British Medical Journal (BMJ)  found that eating fruits, vegetables, and whole grains really reduces the risk of type 2 diabetes.
The first study (which took data from 3 large American studies) found that persons eating the most whole grain foods (when compared to those eating the least) had a 29% lower risk in developing type 2 diabetes over the next 24 years. Whole grain foods included: whole grain breakfast cereal, oatmeal, dark bread, brown rice, bran, wheat germ, and popcorn. The good results were from eating just two servings a day of whole grains.
A European study didn't just ask people what they ate, but actually measured the level of plasma vitamin C and carotenoids (from fruits and vegetables eaten) in the blood. Those with higher values had a lower incidence of type 2 diabetes over a 10 year period, with the highest group having a 49% lower risk of type 2 diabetes.
Current guidelines recommend eating at least 5 servings of fruits and vegetables each day, which is equivalent to eating 400 g or more per day. Many people don't eat nearly enough servings, as was seen in the study. Fruit and vegetable intake in the study  was divided into 5 groups, with median consumption ranging from 274 g (lowest), 357 g, 396 g, 452 g, to 508 grams (highest) per day.
The good news was that increasing fruit and vegetable consumption by just 66 grams (3/4 cup) per day was associated with a 25% lower risk of developing diabetes. So even a small  increase in fruit and vegetable consumption could help prevent type 2 diabetes!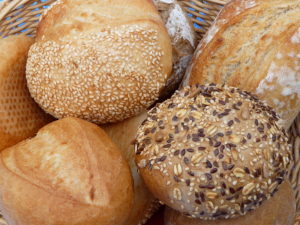 By the way, there are also other health benefits from eating whole grains. Higher consumption lowers the risk of developing several major chronic diseases, including cardiovascular disease, obesity, and some types of cancer.
From Science Daily: Higher fruit, vegetable and whole grain intake linked to lower risk of diabetes
Higher consumption of fruit, vegetables and whole grain foods are associated with a lower risk of developing type 2 diabetes, according to two studies published by The BMJ today.
...continue reading "Reduce Your Risk Of Diabetes By Eating Whole Grains, Fruits, and Vegetables"