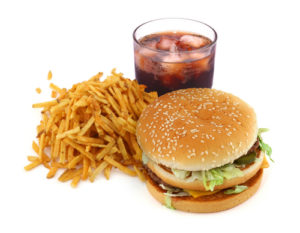 Amusing but also scary. The negative effects on the gut microbes of one person consuming an all fast food diet for 10 days occurred very quickly, and his gut microbes did not recover even 2 weeks after the fast food diet ended. Biggest problem seemed to be loss of gut diversity - about 40% of his gut bacterial species. Loss of gut diversity is considered a sign of ill health. Written by Tim Spector, with Tom Spector's assistance, from The Conversation:
Your gut bacteria don't like junk food – even if you do
When Morgan Spurlock famously spent a month eating large portions of McDonalds for the purposes of his documentary Supersize Me, he gained weight, damaged his liver and claimed to have suffered addictive withdrawal symptoms. This was popularly attributed to the toxic mix of carbs and fat plus the added chemicals and preservatives in junk foods. But could there be another explanation?
We may have forgotten others who really don't enjoy fast food. These are the poor creatures that live in the dark in our guts. These are the hundred trillion microbes that outnumber our total human cells ten to one and digest our food, provide many vitamins and nutrients and keep us healthy. 
For the sake of science and research for my book The Diet Myth, I have been experimenting with several unusual diets and recorded their effects on my gut microbes...My son Tom, a final year student of genetics at the University of Aberystwyth suggested an additional crucial experiment: to track the microbes as they changed from an average western diet to an intensive fast food diet for over a week.
I wasn't the ideal subject since I was no longer on an average diet, but Tom, who like most students enjoyed his fast food, was. So he agreed to be the guinea pig on the basis that I paid for all his meals and he could analyse and write up his results for his dissertation. The plan was to eat all his meals at the local McDonalds for ten days. He was able to eat either a Big Mac or Chicken nuggets, plus fries and Coke. For extra vitamins he was allowed beer and crisps in the evening. He would collect poo samples before, during and after his diet and send them to three different labs to check consistency.
While it was clear the intensive diet had made him feel temporarily unwell, we had to wait a few months for the results to arrive back....They all told the same story: Tom's community of gut microbes (called a microbiome) had been devastated.
Tom's gut had seen massive shifts in his common microbe groups for reasons that are still unclear. Firmicutes were replaced with Bacteroidetes as the dominant type, while friendly bifidobacteria that suppress inflammation halved. However the clearest marker of an unhealthy gut is losing species diversity and after just a few days Tom had lost an estimated 1,400 species – nearly 40% of his total. The changes persisted and even two weeks after the diet his microbes had not recovered. Loss of diversity is a universal signal of ill health in the guts of obese and diabetic people and triggers a range of immunity problems in lab mice.
That junk food is bad for you is not news, but knowing that they decimate our gut microbes to such an extent and so quickly is worrying...We rely on our bacteria to produce much of our essential nutrients and vitamins while they rely on us eating plants and fruits to provide them with energy and to produce healthy chemicals which keep our immune system working normally.
We are unlikely to stop people eating fast food, but the devastating effects on our microbes and our long term health could possibly be mitigated if we also eat foods which our microbes love like probiotics (yogurts), root vegetables, nuts, olives and high-fibre foods. What they seem to crave, above all else, is food diversity and a slice of gherkin in the burger just isn't enough.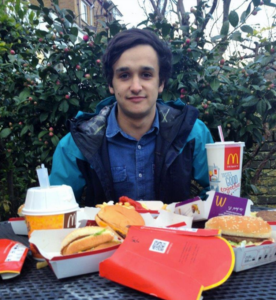 Tom Spector. Credit: Tim Spector