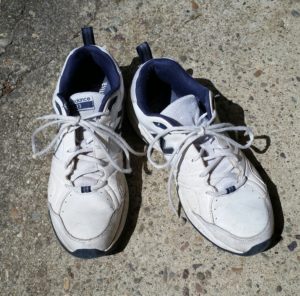 We've all heard of immunotherapy as a possible future treatment for many cancers, but other possible treatments are also being tested. Two possibilities caught my eye.
The first study is looking at exercise for advanced prostate cancer - to extend life, and the other is testing a vaccine for those with prostate cancer who haven't yet treated it (they've just been doing "active surveillance" instead).  And since the studies are occurring now, and people are still joining, then the results are still unknown and won't be known for years.
But one can hope.... Exercise as anticancer therapy? A vaccine after cancer diagnosis?
From Medical Xpress: Exercise, future anticancer therapy?
At age 70, Alfred Roberts plays hockey twice a week. Nothing special, right? Except that for three years he has had advanced prostate cancer, which has spread to his bones. "I've always been active. Hockey keeps me in shape and keeps my mind off things. I've got friends that have played until age 80, and my goal is to beat them!" said the veteran stick handler.
Several studies have demonstrated the benefits of exercise to improve the quality of life of people with cancer. But Dr. Fred Saad, urologist-oncologist and researcher at the University of Montreal Hospital Research Centre (CRCHUM), goes further. He believes that physical exercise has a direct effect on cancer, as effective as drugs, for treating patients with prostate cancer, even in advanced stages of the disease.
"Typical patients with metastases often become sedentary. It is thought that this affects cancer progression," he said. Together with Robert Newton, professor at the Edith Cowan University Exercise Medicine Research Institute in Australia, Dr. Saad is leading the first international study which aims to demonstrate that exercise literally extends the life of patients with metastatic prostate cancer....In the coming weeks, some sixty hospitals across the world will begin recruiting patients. In total, nearly 900 men with advanced prostate cancer will participate.
"We will study exercise as if it were a drug added to standard treatments. All patients will be treated within the latest scientific knowledge for this type of cancer. They will continue to follow their therapies and take their medications. But half of the patients will receive psychosocial support with general recommendations on physical exercise. The other half will also follow a high intensity exercise program," he explained.
The exercise medicine expert Professor Robert Newton has designed a specific strength and cardiovascular training program for patients in the "exercise" group. "They will have an hour of aerobic and resistance training three times a week. An exercise specialist will supervise them for the first 12 months, and then they will continue without direct supervision. We will evaluate quality of life, appetite, and treatment tolerance in relation to their improved physical condition," said Professor Newton, who is co-director of the Edith Cowan University, Exercise Medicine Research Institute.
The hypothesis is that exercise has a direct impact on cancer progression in addition to helping patients better tolerate therapy. Ultimately, they will live longer. The results of this large study, which involves some one hundred researchers in Canada, the US, Australia, Ireland, the Netherlands, and the UK, will not be known for five years. Could the findings be extended to other types of cancer? It is too early to tell, but researchers are betting that exercise could well become the next anticancer therapy. Alfred Roberts is also convinced that exercise helps defy the odds: "As long as I can skate, I'll play hockey!"
From Medscape:  A Treatment Vaccine for Low-Risk Prostate Cancer
A Louisiana-based biopharmaceutical company is betting that its experimental immunotherapeutic vaccine can keep previously untreated prostate cancer in check. The company, OncBioMune Pharnaceuticals, Inc, in Baton Rouge, is planning to test the vaccine, dubbed ProscaVax, in a phase 2 trial for patients with previously untreated prostate cancer and in a second trial for patients with recurrent or hormone-refractory disease. The trial of a treatment vaccine in untreated, low-risk prostate cancer patients is novel.