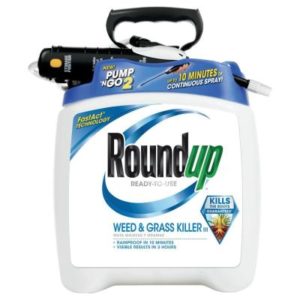 Since my last post on the most commonly used pesticide in the world - glyphosate - there have been a number of important developments. Glyphosate is the active ingredient in the weed-killer or herbicide Roundup, which is manufactured by the chemical giant Monsanto. There have been more questions raised about the safety of glyphosate, and also what went on behind the scenes recently between Monsanto and some officials at the EPA, especially EPA deputy division director Jess Rowland.
Was there a downplaying of the pesticide's health effects or squashing of researchers and studies that raised health concerns? (Remember that the International Agency for Research on Cancer, a branch of the World Health Organization, found glyphosate to be a "probable carcinogen" in 2015, but the manufacturer Monsanto has fought long and hard against that designation) Was there corruption? Or ...?
A big problem is that the EPA relies on industry-funded studies to determine if something is safe or not - which is like the fox guarding the chicken house. Also, were the so-called "independent" research articles actually ghost-written by industry (Monsanto), which is what some documents are suggesting? And why was a government review of the pesticide squashed? Tsk.... tsk.... Another problem is that the EPA can choose which studies to include when making a decision - and they can choose to disregard independent peer-reviewed research (the better research) and rely on industry studies that are not peer-reviewed (definitely bias in these studies). And yes, this happened here. For example, the EPA has ignored more than 1500 published (and peer reviewed) studies on glyphosate from the last decade and instead relied largely on less than 300 unpublished, non-peer-reviewed studies. Another tsk...tsk....
Now a published paper by noted researchers (see below) makes the case that the debate over glyphosate remains unsettled and requires further review. The researchers recommend such things as better testing of glyphosate levels and its metabolites in the human body. They pointed out that some studies with rodents found that glyphosate is a carcinogen (can "induce cancers"), and other studies find glyphosate is associated with negative health effects in humans, such as chronic kidney disease and some cancers. Some research suggests that glyphosate is an endocrine disruptor. Also, chemical mixtures can be more toxic than individual chemicals - this is a concern with the chemicals in Roundup. Studies are needed examining people exposed through their occupations (e.g., pesticide applicators), and also "vulnerable populations (e.g., pregnant women, babies, children). The researchers added that current safety standards are outdated and may fail to protect public health and the environment.
I would like to add that this is why glyphosate residues need to be studied in food - we are eating the stuff unless we only eat organic food. Due to the practices of "preharvest application" of glyphosate (Roundup) and the increasing use of genetically modified crops (such as Roundup Ready crops) that allow the herbicide to be applied without killing the crop (but which means the pesticide is in the crop), the use of glyphosate is increasing rapidly. And then there is the use on school grounds, in suburban yards, and properties. Yikes! This is not a political issue - this is a health issue, and of having the right-to-know what is in our food, our bodies, and our environment (you don't think it just stays on the fields where it is used, do you?)
Excerpts from the NY Times article: Monsanto Weed Killer Roundup Faces New Doubts on Safety in Unsealed Documents
The reputation of Roundup, whose active ingredient is the world's most widely used weed killer, took a hit on Tuesday when a federal court unsealed documents raising questions about its safety and the research practices of its manufacturer, the chemical giant Monsanto.... A case in federal court in San Francisco has challenged that conclusion, building on the findings of an international panel that claimed Roundup's main ingredient might cause cancer.
The court documents included Monsanto's internal emails and email traffic between the company and federal regulators. The records suggested that Monsanto had ghostwritten research that was later attributed to academics and indicated that a senior official at the Environmental Protection Agency had worked to quash a review of Roundup's main ingredient, glyphosate, that was to have been conducted by the United States Department of Health and Human Services. The documents also revealed that there was some disagreement within the E.P.A. over its own safety assessment.
Excerpts from an article about the BMJ paper (see below) at Science Daily: Weedkiller chemical (glyphosate) safety standards need urgent review
But most of the science used to support the safety standards applied in the US was carried out more than 30 years ago, and relatively little of it was subject to peer review, they point out. More than 1500 studies have been published on the chemical over the past decade alone. "It is incongruous that safety assessments of the most widely used herbicide on the planet rely largely on fewer than 300 unpublished, non-peer reviewed studies while excluding the vast modern literature on glyphosate effects," say the experts. And despite the rapid increase in use there is no systematic monitoring system for tracking levels in human tissue, and few studies have looked at potential harms to human health.
But recent animal studies have suggested that glyphosate at doses lower than those used to assess risk, may be linked to heightened risks of liver, kidney, eye and cardiovascular system damage. And weed-killers, which combine glyphosate with other 'so-called inert ingredients,' may be even more potent. But these mixtures are regarded as commercially sensitive by the manufacturers and are therefore not available for public scrutiny, say the experts.
Excerpt from the BMJ Journal of Epidiomology and Community Health: Is it time to reassess current safety standards for glyphosate-based herbicides?
Use of glyphosate-based herbicides (GBHs) increased ∼100-fold from 1974 to 2014. Additional increases are expected due to widespread emergence of glyphosate-resistant weeds, increased application of GBHs, and preharvest uses of GBHs as desiccants. Current safety assessments rely heavily on studies conducted over 30 years ago. We have considered information on GBH use, exposures, mechanisms of action, toxicity and epidemiology. Human exposures to glyphosate are rising, and a number of in vitro and in vivo studies challenge the basis for the current safety assessment of glyphosate and GBHs. We conclude that current safety standards for GBHs are outdated and may fail to protect public health or the environment.