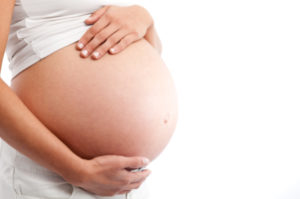 A recent study of pregnant women found new health problems with the pesticide glyphosate, which is the active ingredient in the weedkiller Roundup (made by Monsanto).
The researchers found that women  with higher levels of glyphosate are more likely to have shorter pregnancies. Another major finding was that almost all the pregnant women (93%) in this study had detectable levels of glyphosate in their urine. I posted about this study earlier, but now it has been published in the journal Environmental Health.
All the pregnant women were living in central Indiana (in the cornbelt) in a mix of areas (suburban, urban, and rural), and whether they had well or public drinking water. In case you don't know, it is not good for a baby to be born early, and there can be lifelong health consequences - so every extra week (till full term) is good during pregnancy.
The researchers found higher levels of glyphosate in women living in rural areas (farm areas) and those drinking greater than 24 ounces a day of caffeinated beverages. The researchers thought that diet (food) and inhalation of contaminated dust were the major ways that the glyphosate got into the pregnant women.
Glyphosate is the most heavily used herbicide (a type of pesticide) in the world. Nearly 300 million pounds were applied in the U.S. in 2015, with much of the application in the Midwest. Scroll down to see a USGS map of glyphosate (Roundup) use in 2015 in the US. You can see that incredibly huge amounts of glyphosate are used in the midwest on farmland - greater than 88.6 pounds per square mile! (it's the dark brown areas on the map). Top crops it's used on are corn, soybeans, and canola, especially genetically modified Roundup Ready crops.
It is also used as a dessicant right before harvest ("preharvest") on many crops. This is why crops have glyphosate residues on them, and why so many streams and lakes are contaminated (due to agricultural runoff). About 90% of corn and soybean crops grown in the United States are Roundup Ready, and then these grains are used in most processed foods. Note: glyphosate (Roundup) can not be used on organic crops.
The herbicide has been linked to a number of health problems, including cancer, birth defects, endocrine disruption, and reproductive problems. (Posts on glyphosate.)  There are currently hundreds of lawsuits from farmers and others claiming that Roundup gave them cancer.
...continue reading "Popular Weedkiller Found In Pregnant Women"