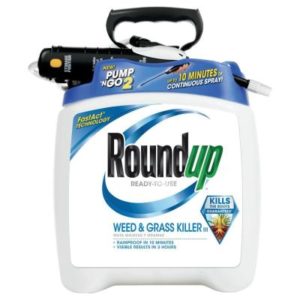 This site has several recent posts about the controversial pesticide glyphosate (found in Monsanto's Round-Up). Glyphosate is the most heavily used pesticide in the world, and is used as a weed-killer (herbicide). It is used extensively in the USA - on farms, on roadsides, on residential properties, on school properties - basically everywhere, and its use is increasing. Studies have reported to have a number of worrisome health effects (including cancer) which its manufacturer is vigorously denying. There have even been recently revealed ties between Monsanto and some officials in the EPA.
United States government agencies only looked for the presence of glyphosate residues in some foods for a short time last year, and then stopped all testing. So WE DON'T KNOW HOW MUCH GLYPHOSATE WE ARE INGESTING DAILY in the United States. Our government refuses to test. Journalist Carey Gillam wrote that "a source within the FDA said there has been political pressure not to delve too deeply into the issue of glyphosate residues". To many it smacks of: if we don't test for glyphosate in foods, then there is no problem of how much is in foods. Because everyone agrees it is found in food - that's why there are standards for maximum residue levels or "tolerances" (but note they were increased when Monsanto asked to have them increased).
Well.....Canada does test for the pesticide in foods. The Canadian Food Inspection Agency just released a report of the results of testing 3,188 foods for traces of glyphosate residues, and found the pesticide in nearly 30% of the foods tested. Residue levels were above the Canadian acceptable limits in 1.3% of the foods. Glyphosate was found the most in: beans, peas, and lentil products (47.4%); grain products (36.6%); and baby cereals (31%). Only 1.3 percent of the total samples were found with glyphosate residue levels above what Canadian regulators allow, though 3.9 percent of grain products contained more of the weed killer than is permissible.
Legally allowable levels or Maximum Residue Levels (MRLs) vary from food to food and pesticide to pesticide, as well as from country to country. The European Union allowable residues for glyphosate on foods are lower than the US maximum allowable amount (yes, once again American standards are more lax). And remember that people ingest numerous pesticides in their foods, and no one knows what health effects are from these combinations of chronic low level pesticide exposures. NOTE: The only way to avoid glyphosate residues in foods is to eat organic foods. Glyphosate is not allowed to be used on organic foods or in organic feed for organically raised animals.
Canadian Food Inspection Agency: Safeguarding with Science: Glyphosate Testing in 2015-2016