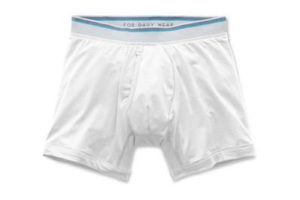 This latest research about the type of men's underwear (boxers vs briefs or other tight underwear) and sperm quantity was surprising. Didn't we all learn this years, even decades, ago? A  recent study of 656 men in Massachusetts found that boxers are  associated with better sperm concentrations and sperm counts than briefs or other tight underwear. The researchers pointed out that tight, skinny jeans or even fabric type - anything that has an effect on "scrotal heat" (increasing scrotal temperatures is viewed as having a negative effect) could also lower sperm numbers. From Science Daily:
Largest study yet shows type of underwear is linked to men's semen quality
Men who wear boxer shorts have higher sperm concentrations than men who wear tighter fitting underwear, according to new research published today (Wednesday) in Human Reproduction. The researchers also found that boxer shorts-wearing men had lower levels of follicle-stimulating hormone (FSH), compared to men who most frequently wore briefs, "bikinis" (very brief briefs), "jockeys" (underwear that finishes just above the knee) or other tight-fitting underwear. FSH stimulates sperm production and the researchers say that these findings suggest that it kicks into gear when it needs to compensate for testicular damage from increasing scrotal temperatures and decreasing sperm counts and concentration. 
The researchers, led by Dr Lidia Mínguez-Alarcón, a research scientist at Harvard T.H. Chan School of Public Health (Boston, USA), recruited the male partners of couples who were seeking infertility treatment at the Massachusetts General Hospital between 2000 and 2017. The men were aged between 18 and 56, had an average body mass index (BMI) of 26, and had not had vasectomies. ... Among the 656 men, 53% (345) reported that they usually wore boxer shorts. They tended to be younger, slimmer and more likely to take hot baths or Jacuzzis than the men who wore other, more tightly fitting underwear.
Men who primarily wore boxer shorts had a statistically significant 25% higher sperm concentration, 17% higher total sperm count, 33% more swimming sperm in a single ejaculate and 14% lower FSH levels than men who did not usually wear boxers, after adjusting for factors that might affect the results, such as BMI, physical activity, hot baths and Jacuzzis, smoking and the year the sample was taken. In addition, more sperm were correctly shaped, although this result was not statistically significant. The greatest difference in sperm concentration was found between men wearing boxer shorts most frequently and men wearing jockeys or briefs.
There were no significant differences in other reproductive hormones or damage to the DNA of the sperm. When the researchers adjusted their results to take account of reproductive hormones, apart from FSH, they found the adverse effect of tighter underwear on sperm quality remained. However, when they adjusted for FSH levels, the effect was no longer significant. This suggested to them that it was the damage to sperm concentrations and total sperm count associated with wearing tighter underwear that could be responsible for the changes in FSH levels.
The researchers point out that it may not be possible to generalise the findings of their study to all men as the study focused on men attending a fertility centre. However, the men in this study tended to have good semen quality when compared to the World Health Organization's reference standards. It is also not possible to prove from these findings that the type of underwear causes the difference in semen quality and FSH levels, only that that there is an association between them. Other factors that might affect scrotal heat, such as type of trousers (e.g. skinny jeans) and underwear fabric, could also affect the results.