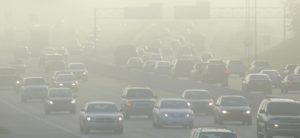 The last few years has seen a loosening of all sorts environmental rules here in the United States, including air pollution. The EPA (Environmental Protection Agency) is not looking out for ordinary people, but doing its best to be as accommodating as possible to big industry. Pollution standards and rules are going backwards! A lot.
[NY Times Dec. 2018 list of 78 environmental rules on the way out. Since then things have only gotten worse - see regulatory rollback tracker from Harvard Law School. Posts on air pollution and health effects.]
Which is why I'm now posting an article about 5 personal air pollution monitors that measure what is in the air around you -  whether in your home, workplace,  or outside. Some can be carried around, others meant to be set up indoors. Most are small, portable, and under $250 (Aeroquel is more expensive). They measure particulates in the air plus other things such as VOCs.
They are Atmotube, Plume Lab, Awair, Aeroqual, and Purple Air monitors. Purple Air monitors smoke, dust, and particulate pollution, and connects a person into an air quality network, so that there is "real time" monitoring. They all are a little different, and all look good. I really, really want an air pollution monitor!
Since this NY Times article was published, it appears that new versions of the pollution monitors (more advanced) are available from these companies.
Excerpts from a Nov. 30, 2018 article by Nellie Bowles in the New York Times: Do You Know What You're Breathing? 
The hottest new apocalypse preparation choice for 2019 is not a bunker or a gun or a lifeboat. And it's not moving to New Zealand. It's a small gadget that measures the air pollution around you.
As climate change reports become increasingly dire, and as wildfires tear across the American West, and as trust in the federal government's air quality oversight fades, thousands of people around the country are taking air measurements into their own hands.
Installed on a porch, a console table or hooked to a backpack, these small, sleek and increasingly inexpensive devices measure hyper-local air quality. They are marketed to the discerning and alarmed consumer. Some have begun to self-identify as "breathers."
The Atmotube and PlumeLab's Flow are small and meant to be carried around, testing the air as a person walks or bikes, helping people plan routes that avoid bad air. The Awair looks like an old-timey radio and sits on a counter to test indoor air. Aeroqual's particulate monitor, one of the most advanced, looks like an enormous old-fashioned cellphone.
But the monitor most intriguing local government environmental protection agencies and civilians alike is PurpleAir. It hooks up outside, connects to Wi-Fi, feeds into a global network and creates something like a guerrilla air quality monitoring network.
Adrian Dybwad, 49, the founder of PurpleAir, would watch the dust from a nearby gravel pit blow near his house in Draper, Utah, where he lives with his wife. When the miners working there tried to expand it even closer, he decided he had to do something. First he had to prove there was something wrong with the air.
"I said to myself, it's 2015, surely there must be a sensor that can tell me how much dust is in there," Mr. Dybwad said. But nothing he could find was both cheap and accurate. So he made his own.
Neighbors got interested. Mr. Dybwad, who has a background in computer networking and surface-mount electronics, asked for donations and raised a few thousand dollars, and the community installed 80 sensors. The amount of floating particles in the air (called particulate matter) was high, especially on windy days. The closest government-run sensor was more than 10 miles away, and not picking up any of this.
In the last year, interest in the project has spiked. Now he has more than 3,000 monitors reporting data every day. He has built a map to show what every PurpleAir around the world is reporting (green is good, red is bad). Local government air quality monitoring groups are using the devices.
The Trump administration has urged the Environmental Protection Agency to ease air quality rules. New E.P.A. leadership seems to be on board with this plan. The administration is working to overhaul restrictions on coal, which by its own estimates could lead to as many as 1,400 more premature deaths annually by 2030 from an increase in the airborne particulate matter.
President Trump claimed in October that the United States has the cleanest air in the world, which is inaccurate. The administration in August unveiled plans to freeze antipollution and fuel-efficiency standards for cars. Outlining the effort, the E.P.A. acting administrator, Andrew Wheeler, and the secretary of transportation, Elaine L. Chao, published an opinion piece in The Wall Street Journal called "Make Cars Great Again."
Mr. Wheeler announced in October that next year the E.P.A. would be disbanding a key scientific review panel on clean air and pollution.
Tony Cox, who sits on the E.P.A. committee on clean air, has said that the benefits of clean air are exaggerated and, in a paper sponsored by the American Petroleum Institute, that it cannot be shown that particulate matter in the air leads to deaths; this is contradicted by information provided by the E.P.A. Robert Phalen, a researcher who joined the E.P.A.'s board of science advisers to work on air quality issues, has said that air has gotten too clean.