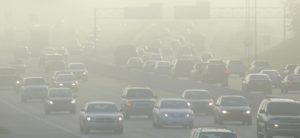 A new study has nicely illustrated how extreme air pollution gets quickly into a person and has negative health effects, but improvement occurs when the exposure to the air pollution ends.
It has long been known that long-term exposure to air pollution is associated with increased heart disease and death from heart disease (cardiovascular morbidity and mortality). But now University of California researchers showed that even relatively short term exposure to high levels of air pollution has negative health effects, such as an increase in inflammation and systemic oxidation (which are linked to heart disease).
The researchers looked at 26 healthy young adults from Los Angeles who visited Beijing for a 10 week period during the summers of 2014 and 2015. They looked at both health effects (such as levels of inflammation) and also what pollutants are found in their bodies. And yes, they found both markers for inflammation and heart disease, as well as high levels of pollutants after being in Beijing for 10 weeks.
Beijing is much more polluted than Los Angeles. For example, levels of small particles in the air (PM2.5) was on average 371% higher in Beijing than Los Angeles, and concentrations of nitrogen dioxide, sulfur dioxide, carbon monoxide, polycyclic aromatic hydrocarbons (PAHs), and ozone were also at higher levels in Beijing than Los Angeles. [Note: PAHs are a group of combustion-originated air pollutants.]
Interestingly, Los Angeles air used to be much more polluted, but environmental policies and regulations resulted in the air becoming cleaner. In other words, steps can be taken to lower levels of air pollution, with would result in health benefits for everyone.
Excerpts from Medical Xpress: Study finds even a short-term visit to a severely polluted city is bad for your health  ...continue reading "Even Short-term Exposure to High Levels of Air Pollution Is Bad For Your Health"