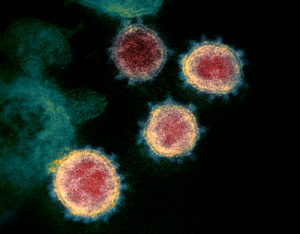 Wonder what the new coronavirus that everyone is worried about looks like? The U.S. National Institute of Allergy and Infectious Diseases (NIAID) has now released a number of images of the novel coronavirus, along with a blog post.
The full name of the coronavirus is SARS-CoV-2, and the illness it causes is COVID-19 disease. The spread of this virus has rapidly grown to be a global public health emergency since it was first detected in Wuhan, China, in December 2019. [CDC novel coronavirus site]
The images are beautiful. Note the spikes on the surface of each virus which give it a crown-like appearance. The word "corona" is Latin for "crown". Most coronaviruses have a crown-like appearance, including MERS (which emerged in 2012) and SARS (in 2002).
NIAID's Rocky Mountain Laboratories (RML) in Hamilton, Montana, produced the images on their scanning and transmission electron microscopes.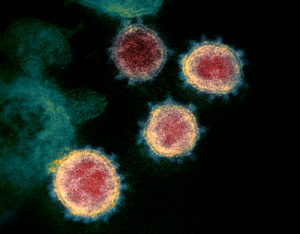 Credit: NIAID-RML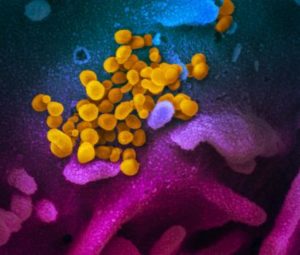 The virus SARS-CoV-2 (yellow) emerging from the surface of cells (blue/pink). Cells were from a patient in the US and cultured in the lab.  Credit: NIAID-RML