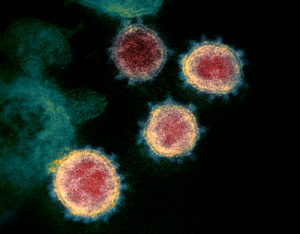 Well, this is interesting.... Saline nasal rinses (which are popular among persons with sinus issues) apparently is very helpful if one gets COVID-19. A recent study found that starting daily saline rinses two times per day after COVID-19 symptoms start, significantly lowers the risk of hospitalization and death from COVID-19.
To make your own saline nasal rinse: mix 1/2 teaspoon each of baking soda and salt in a cup of bottled or boiled (and then cooled) water. Put it into a saline rinse bottle or nasal bulb syringe and use.
In the study, among persons who did nasal saline rinses - less than 1.3% of the 79 study subjects age 55 and older who enrolled within 24-hours of testing positive for COVID-19 experienced hospitalization. No one died. Symptoms also resolved faster.
Among persons who didn't do nasal saline rinses: 9.47% of patients were hospitalized and 1.5% died in a similar group during the same time frame (Sept. 24 and Dec. 21, 2020).
By the way, all persons in the study were 55 or older, and had preexisting medical conditions such as obesity. Also, adding iodine to the nasal rinses did not make a difference. Plain saline rinses were sufficient.
From Medical Xpress: Twice-daily nasal irrigation reduces COVID-related illness, death
Starting twice daily flushing of the mucus-lined nasal cavity with a mild saline solution soon after testing positive for COVID-19 can significantly reduce hospitalization and death, investigators report. ...continue reading "Saline Nasal Rinses Reduce COVID Hospitalizations And Death"