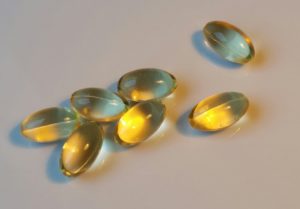 Yesterday's post was about how several well-done large studies did not find the health benefits from vitamin D supplements that the researchers had hoped for. In one of the studies (the VITAL trial) discussed yesterday, Vitamin D supplements did not prevent cancer or cardiovascular events (e.g., stroke, heart attack), which was the focus of the study.
But... one positive finding (in a separate analysis of the study results) did come out of the study: vitamin D supplements reduced the incidence of autoimmune disease by 22% over the 5+ years of the VITAL trial. This included rheumatoid arthritis, polymyalgia rheumatica, autoimmune thyroid disease, and psoriasis.
The more than 25,000 participants (all older than 50 years) took vitamin D 2000 IUs daily or 1 g marine omega-3 fatty acids (fish oil) daily,  or both, or none for more than 5 years. Only the vitamin D supplementation (whether taken alone or with fish oil) had a statistically significant health effect.
From Medical Xpress: Study finds vitamin D supplements with or without Omega-3s decreased risk of autoimmune diseases
Autoimmune diseases (AD) such as rheumatoid arthritis, polymyalgia rheumatica, autoimmune thyroid disease and psoriasis, are a leading cause of morbidity and mortality as people age. Few effective treatments are available for AD, but some preclinical studies have hinted that supplements, including vitamin D and omega-3 (or n-3) fatty acids, may have beneficial effects. In a new study published in BMJ, investigators from Brigham and Women's Hospital evaluated whether taking vitamin D and/or omega fatty acid supplements could affect rates of AD. 
The team tested this in the large-scale vitamin D and Omega-3 Trial (VITAL), a randomized study which followed participants for approximately five years. Investigators found the people who took vitamin D, or vitamin D and omega-3 fatty acids had a significantly lower rate of AD than people who took a placebo.
VITAL is a randomized, double-blind, placebo-controlled research study of 25,871 men (age 50 and older) and women (age 55 and older) across the U.S., conducted to investigate whether taking daily dietary supplements of vitamin D3 (2000 IU) or omega-3 fatty acids (Omacor fish oil, 1 gram) could reduce the risk for developing cancer, heart disease and stroke in people who do not have a prior history of these illnesses. Participants were randomized to receive either vitamin D with an omega-3 fatty acid supplement; vitamin D with a placebo; omega-3 fatty acid with a placebo; or placebo only. Prior to the launch of VITAL, investigators determined that they would also look at rates of AD among participants, as part of an ancillary study.
Among patients who were randomized to receive vitamin D, 123 participants in the treatment group and 155 in the placebo group were diagnosed with confirmed AD (22 percent reduction). Among those in the fatty acid arm, confirmed AD occurred in 130 participants in the treatment group and 148 in the placebo group. Supplementation with omega-3 fatty acids alone did not significantly lower incidence of AD, but the study did find evidence of an increased effect after longer duration of supplementation.
Medscape commentary about the study: Vitamin D Supplements Cut Risk for Autoimmune Disease in VITAL