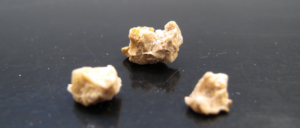 Kidney stones are not only incredibly painful, but are also associated with chronic kidney disease, osteoporosis, and heart disease. New research suggests a good way to prevent a recurrence of kidney stones is to increase consumption of calcium and potassium rich foods. Very simple!
The Mayo Clinic researchers also found certain dietary factors associated with a higher risk of getting kidney stones for the first time. They are: lower consumption of calcium, potassium, caffeine (e.g., coffee, tea), and phytate in the diet. As well as a lower daily fluid intake. Foods matter!
Some foods to eat to lower the risk of kidney stones:
Calcium rich foods: dairy products (e.g., cheese, milk, yogurt), dark green leafy vegetables (e.g., spinach, collard greens, broccoli, kale), and sardines. [Note: Calcium supplements are associated with kidney stones, while eating calcium rich foods is protective.]
Potassium rich foods: include legumes (beans and lentils), potatoes (with skins), tomatoes, some fruits (e.g., bananas, kiwi, orange juice, melons), dairy foods, some seafood (e.g., salmon, halibut, tuna, shad, clams), leafy greens (e.g., spinach), yam, squash.
Phytate rich foods: include beans, legumes, unprocessed cereal grains (e.g., oats), nuts, seeds, and potatoes.  Some people have referred to phytate rich foods as "anti-nutrients" and say to avoid them (because they may slow down absorption of certain minerals). However, recent research finds that the health benefits of eating phytate rich foods (e.g., they are antioxidants, anti-inflammatory) and other plant foods outweighs any concerns.
From Science Daily: Diets higher in calcium and potassium may help prevent recurrent symptomatic kidney stones
Kidney stones can cause not only excruciating pain but also are associated with chronic kidney disease, osteoporosis and cardiovascular disease. If you've experienced a kidney stone once, you have a 30% chance of having another kidney stone within five years. 
Changes in diet are often prescribed to prevent recurrent symptomatic kidney stones. However, little research is available regarding dietary changes for those who have one incident of kidney stone formation versus those who have recurrent incidents.
Mayo Clinic researchers designed a prospective study to investigate the impact of dietary changes. Their findings show that enriching diets with foods high in calcium and potassium may prevent recurrent symptomatic kidney stones.
Dietary factors were based on a questionnaire administered to 411 patients who had experienced first-time symptomatic kidney stones and a control group of 384 people -- all of whom were seen at Mayo Clinic in Rochester and Mayo Clinic in Florida between 2009 and 2018. The findings, which were published in Mayo Clinic Proceedings, show that lower dietary calcium and potassium, as well as lower intake of fluids, caffeine and phytate, are associated with higher odds of experiencing a first-time symptomatic kidney stone.
Of the patients who had first-time stone formation, 73 experienced recurrent stones within a median of 4.1 years of follow-up. Further analysis found that lower levels of dietary calcium and potassium predicted recurrence.
Fluid intake of less than 3,400 milliliters per day, or about nine 12-ounce glasses, is associated with first-time stone formation, along with caffeine intake and phytate, the study finds. Daily fluid intake includes intake from foods such as fruits and vegetables.
Low dietary calcium and potassium was a more important predictor than fluid intake of recurrent kidney stone formation, says Api Chewcharat, M.D., the article's first author and a postdoctoral research fellow at Mayo Clinic at the time of the study. "This is not to say high fluid intake is not important. We just did not find benefits of increasing fluid intake among those patients with a history of kidney stone formation."
The study concludes that diets with daily intake of 1,200 milligrams of calcium may help prevent first-time and recurrent kidney stones. That daily intake is in line with the Department of Agriculture's daily recommended nutrition.