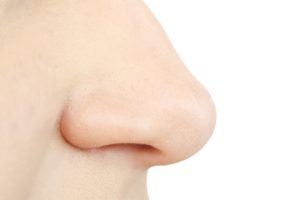 This site spends a lot of time discussing the nasal passages and sinuses. That's why a study focusing on the average number of hairs in the nose drew my attention.
The study won a 2023 Ig Nobel Award in medicine. The Ig Awards are basically a good-natured parody of Nobel prizes, where studies that at first seem silly, but then make you think, win awards.
The University of California researchers used 20 cadavers (10 male and 10 female dead persons) to study whether a person has the same number of hairs in both nostrils.
They carefully counted the number of hairs in each nostril and found that people generally have between 120 and 122 hairs per nostril. [The article is behind a paywall, so I searched and found that one mention of the study said on average there were 120 nose hairs on the left side and 112 on the right side.]
Another finding: the hair grows in the front of the nostril and only grows to a height of 0.81 to 1.035 centimeters.
From Ars Technica: Meet the winners of the 2023 Ig Nobel Prizes
Medicine Prize
Citation: "Christine Pham, Bobak Hedayati, Kiana Hashemi, Ella Csuka, Tiana Mamaghani, Margit Juhasz, Jamie Wikenheiser, and Natasha Mesinkovska, for using cadavers to explore whether there is an equal number of hairs in each of a person's two nostrils."
This study was triggered by an interest in alopecia areata, a condition marked by hair loss on one's scalp, eyelashes, eyebrows, and nostrils. Pham et al. noted that many people who suffer from this condition are more prone to upper respiratory infections, allergies, and dryness because the condition also depletes the nose hair lining each nostril. And they realized that nobody had actually gotten around to counting the average number of nose hairs in humans, a first step in assessing what effects the lack thereof could have on patients' quality of life.
So that's what they did, using 20 cadavers (10 male and 10 female) from the medical school at the University of California, Irvine. Not only were the hairs counted in each nostril, but they used a measuring tape to determine the distance of hair growth at the upper, lateral, and lower nostril. The results: The average nose hair count per nostril is between 120 and 122 hairs, and nose hairs typically grow over a range of 0.81 to 1.035 centimeters. Trot out those statistics next time you're desperate to make small talk at a cocktail party.