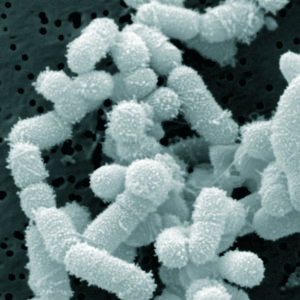 An interesting study (published in September 2015) looked at how prevalent biofilms are in the sinuses of people with chronic sinusitis (with or without nasal polyps) as compared to healthy people (without chronic sinusitis). Biofilms are communities of bacteria sticking to one another and coated with a protective slime. The researchers found that the most biofilms were found in people with chronic sinusitis who also had nasal polyps (97.1%) , followed by those with chronic sinusitis without nasal polyps (81.5%), and the least in the control group of healthy patients (56%). They felt that the biofilms contributed to or had a role in chronic sinusitis. But note that the majority of people in all groups had biofilms.
Unfortunately nowhere in the study was there an analysis of the bacteria making up the biofilms. Are the bacteria in the biofilms different in the healthy people versus those with chronic sinusitis? The general assumption is that biofilms are formed from pathogenic (bad) bacteria such as Staphylococcus aureus, but it is known that beneficial bacteria such as Lactobaccillus plantarum and Lactobacillus reuteri can also form biofilms. One study concluded that: "L. reuteri biofilms secreted factors that confer specific health benefits such as immunomodulation and pathogen inhibition." So what was in the biofilms of healthy people (without chronic sinusitis)? Were the biofilms in healthy sinuses made up of protective beneficial bacteria or pathogenic bacteria that were kept in check by other "beneficial" microbes (which can be bacteria, fungi, viruses, etc) in the sinus microbiome?
Biofilms are very hard to eradicate, even with antibiotics. The researchers mentioned that "To date many different modalities have been tested, from Manuka honey to ultrasound and surfactant, but none have been shown to be very efficient." However, they did not mention other bacteria (probiotics) as a treatment possibilty in eradicating biofilms in the sinuses. There has been research looking at using probiotics against biofilms elsewhere in the body (such as dental plaque on teeth).
If biofilms from pathogenic bacteria are so pervasive in chronic sinusitis (81.5% to 97.1%), then it appears that some bacteria such as Lactobacillus sakei somehow predominate over them. I am saying this based on the majority of people writing to me saying that L. sakei treated their chronic sinusitis, as well as the experiences of my own 4 family members (at least 3, perhaps all 4 of us probably had biofilms in our sinuses based on the 81.5% to 97.1% numbers in this research). Something to contemplate. From the journal Acta Oto-Laryngologica:
Bacterial biofilms in chronic rhinosinusitis; distribution and prevalence.
Biofilms were more prevalent in patients with CRSwNP [chronic rhinosinusitis with nasal polyps] compared to both CRSsNP [chronic rhinosinusitis without nasal polyps] and controls [healthy people], and also on the ethmoid bulla compared to the middle turbinate, supporting a biofilm-related pathogenesis of CRSwNP....This study comprised 27 patients with CRSsNP, 34 patients with CRSwNP, and 25 controls.
Chronic rhinosinusitis (CRS) is today understood as a multifaceted group of diseases. The most established differentiation is between CRS with nasal polyps (CRSwNP) and without nasal polyps (CRSsNP)....Patients with CRSwNP have the worst quality-of-life scores, and they have frequent recurrences of their symptoms after surgery.
The pathophysiology of nasal polyps is poorly understood. Bacterial infection, in the form of biofilms, is proposed as a major drive behind the inflammation in CRS. Bacterial biofilms is identified as the agent behind an ever increasing number of chronic infectious diseases, ranging from endocarditis to dental caries. Bacterial biofilms are communities of bacteria in their sessile form, and can be extremely difficult to eradicate with conventional antibiotic therapy.
The total number of patients in the CRS group was 61, 23 females and 38 males, and median age was 40 years....Bacterial biofilms were detected in 97.1% of patients with CRSwNP, 81.5% of patients with CRSsNP, and 56% of controls. Patients with CRSwNP had highly significantly increased prevalence of biofilms compared to controls....The prevalence of biofilms in different anatomical locations within the nasal cavity differed....Biofilms were detected in 79.6% of the samples from the ethmoid bulla, 70.9% of the samples from the uncinated process, and 62.0% of the samples from the middle turbinate.
In this study a significantly increased prevalence of biofilms were found in patients with CRSwNP compared to controls, but also compared to CRSsNP. Indeed only one of the patients with CRSwNP was biofilm negative. This indicates a role for biofilms in the pathogenesis of CRS, but specifically in CRSwNP.
The pathophysiological mechanisms underlying nasal polyps are still poorly understood. Biofilms are shown to be heterogeneous and can be composed of both bacteria and fungi. Staphylococcus Aureus feature prominently in most biofilms found in the sinonasal cavity, being isolated in 50% of the samples. and can possibly facilitate co-colonization with fungi....Bacteria in a biofilm are shown to have up to a 1000-fold increased resistance to antibiotics compared to planktonic bacteria. These features of biofilms make them notoriously hard to eradicate.... In the setting of CRS we have the opportunity of direct local treatment which gives us a greater range of potential treatment options. To date many different modalities have been tested, from Manuka honey to ultrasound and surfactant, but none have been shown to be very efficient....In regards to nasal polyps, further studies are needed to investigate why some patients with biofilms develop nasal polyps while others do not.
Biofilms thrive in moist areas without too much turbulence, conditions found deep in the middle meatus. This may also explain why there were a higher number of biofilm positive CRSwNP patients, as regular nasal polyps originate in the ethmoid....In the opinion of the authors the findings in this article suggest a role for biofilms in CRSwNP.
Bacterial biofilm in a person with chronic
sinusitis Credit: Thiago Freire Pinto Bezerra et al,  Braz. j. otorhinolaryngol. (Impr.) vol.75 no.6 São Paulo Nov./Dec. 2009